Now that we are in the home stretch of this pregnancy, the question I get most from strangers in Kroger has shifted from "When are you due and what are you having?" to "Do you have everything ready?".
I would like to answer this friendly prodding with a proud and resounding "Yes I do!"; but normally I smile and nod and mumble something about being almost there.  In reality, my swollen sausage fingers start to sweat at the drop of that pregunta because the reality is no, no I do not have everything ready.  Really, not even close.  The nursery isn't finished.  Our bags aren't packed.  Every bone in my type-A body cringes over that fact.
So I have decided to distract my major mom-fail by discussing something I have prepared a little wee bit more than the baby's nursery.  A lot of you awesome readers have asked for book recommendations for pregnancy and birth, and my novice self is very humbled.  So, it is with great acknowledgement of my I-have-no-idea-what-I'm-doing state that I give you a list of the books I've been reading throughout this pregnancy, and what I think of them.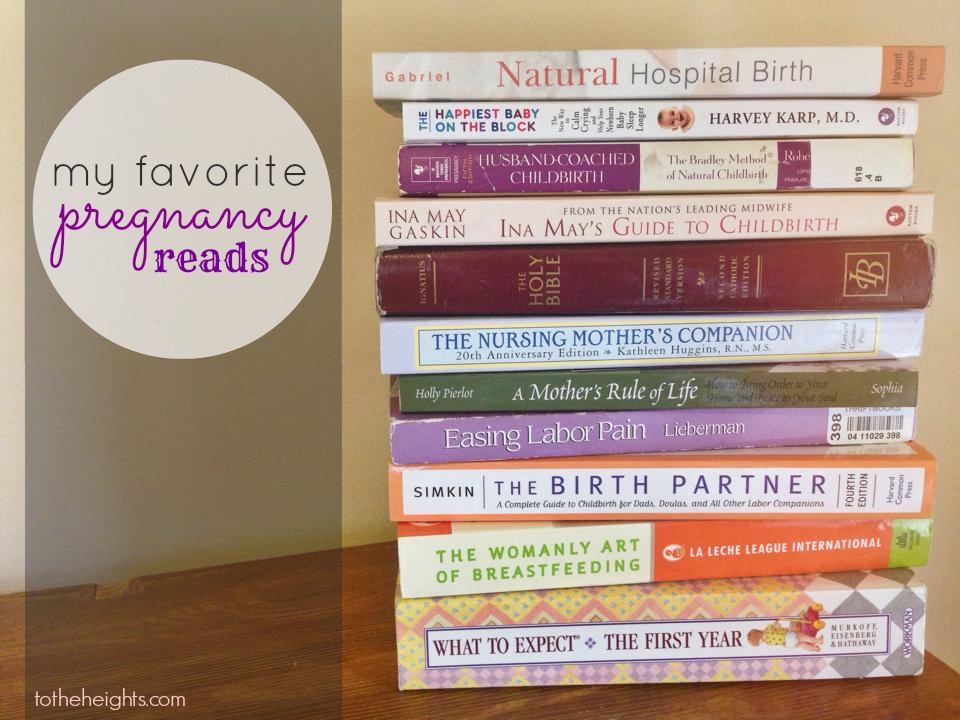 Natural Hospital Birth // This book has been my favorite so far.  It is a recent acquisition, so I haven't made my way through the whole thing yet, but I've loved the (practical) advice and the realism of what it takes to have a natural birth in a modern hospital.  If you are/will ever shoot for a natural birth while in the hospital, I highly recommend this book.  At the very least, no matter what the outcome of your birth is, it will give you confidence to make the tough decisions.
The Happiest Baby on the Block // I've seen many a mom-blogger recommend this book and swear by it when it comes to soothing babies (especially fussier ones).  It's been interesting to dive into the "4 S's" of soothing and cuddling a baby in ways reminiscent to their time in the womb.  Since I'm a big fan of cuddling tiny love bugs, I've been all about it 😉
Husband Coached Childbirth // So many moms have recommended taking Bradley classes to prepare for childbirth, and I wish I could jump right on that gravy train.  Unfortunately, there are no Bradley classes offered in our area, so this book was the best we could do.  Written by Dr. Bradley himself, this book takes you through his philosophy on birth and the why's behind the Bradley Method.  D and I have learned a lot from this book, and it is a very easy read for being so meaty content-wise.
Ina May's Guide to Childbirth // I won't lie about it – when I first cracked into this one I was a little unsure about it.  Although the positive birth stories were uplifting, I had a difficult time relating to them all.  But the guidance given in the second part of the book is well worth it.  Ina May is a genius when it comes to birthing humans and her insight and wisdom pours forth abundantly on these pages.
The Bible // Because bringing a new life into the world is overwhelming and intimidating at times.  And the only comfort during those times is the Word of God, offering encouragement and reminders of the Father's providence.  The Bible has just been necessary.  As per usual.
The Nursing Mother's Companion // This beauty is full of fantastic breastfeeding tutorials (?).  When it comes to achieving a good latch with le bebe (which apparently helps reduce the pain of breastfeeding adjustment?), this book provides good description and practical advice, especially for those first few weeks of nursing.
A Mother's Rule of Life // Another gem recommended by so many mom bloggers. I think this book is terrific for even those who are not mothers.  It covers the basics of prioritizing and scheduling in a way that will accommodate all the needs of a family while still allowing time and energy for personal and spiritual growth. Ever struggle with balancing all the arenas of life?  (Both hands raised high here)… This book is vital.  It has rocked my world and has given me so much thinking material that I'll be working on for the rest of my days.
Easing Labor Pain // Yet another winner in the coping-with-labor-pains family. It breaks coping strategies down into categories and offers great pictures (I'm a total visual learner so I be grateful).  My sister-in-law loaned me this book and I found it to be so helpful that I bought a copy for myself to keep forever and ever amen.
The Birth Partner // This book is one of the great and mighty books recommended by most people in the birthing world.  I read it early on in my pregnancy and it's a great starter book.  I wasn't too overwhelmed with information about the birth process, but it laid some excellent groundwork for the various stages and sensations of labor.
The Womanly Art of Breastfeeding // Le Leche League's textbook, if you will.  I haven't made my way through the whole book, but what I have read has been superbly insightful.  I see this book as an awesome reference material and one that I will be turning to frequently during my time as a mama.
What to Expect… // THE book of all pregnancy books, right?  I've read most of "…When You're Expecting" and "…the First Year".  Although I disagree with a lot of the philosophies contained in the literature, "…When You're Expecting" gave me a good idea about the process of labor and delivery and the different decisions that need to be made.  I actually favor "…the First Year" because it provided mountains of information about the simplest tasks of taking care of a newborn that would have been otherwise completely lost on me.  I have two current concerns when it comes to this child: getting him out safely and keeping him alive once he's here.  So these books have delivered some good guidance in those departments.
Ok enough from me… What pregnancy books have you found most beneficial? Help a rookie out!  Share below, I've still got four weeks to scour through pages 😉