Your due date.
It's a date you have repeated to strangers countless times. It's a date you've circled, highlighted, and doodled all over in your calendar. It's a date you've Googled to see what significant events in history happened on that day and which celebrities your baby might share a birthday with.
It's a date you love and a date you'll grow to hate.
Because most likely, your baby won't come on his or her due date. And that's ok! I'm a firm believer that a more accurate description is a "due month", because babies gonna come when babies wanna come, amiright?
But regardless of when you're baby comes – a month early, three weeks late, or right on time – the waiting at the end can be the absolute hardest moment of the entire pregnancy.
I have a few girlfriends who are patiently waiting on their new babies to arrive and my heart breaks for them because I know how disheartening the waiting can be!
I don't know what it is about the last days or weeks of pregnancy, but I remember truthfully thinking that George was never going to come out. I somehow convinced myself that he didn't want to be born and that he was just going to stay in my womb forever like a permanent accessory. A belly button ring gone wrong.
The state of mind that a mom can find herself in toward the end of her pregnancy, whether it be her first or her seventh, is so hard to describe. For some reason, there can just be a lot of suffering in those last days, so much longing, massive amounts of anticipation, and trials of trust and faith.
It's a good idea, then, for expectant mamas to have some tools in their toolbox for if/when that time comes. Tools of productive distraction in the hopes that the waiting will be a little easier, a little less crippling, and a little more normal. My friend and I (hi, Kait!) compiled our list of what we have found to be the best distractions during the final days of pregnancy.
I hope this helps any pregnant women out there who are struggling with time standing still! You are almost there. The baby WILL come out. I promise. Even if it doesn't seem like it. And it will be wonderful. Keep trucking, mama!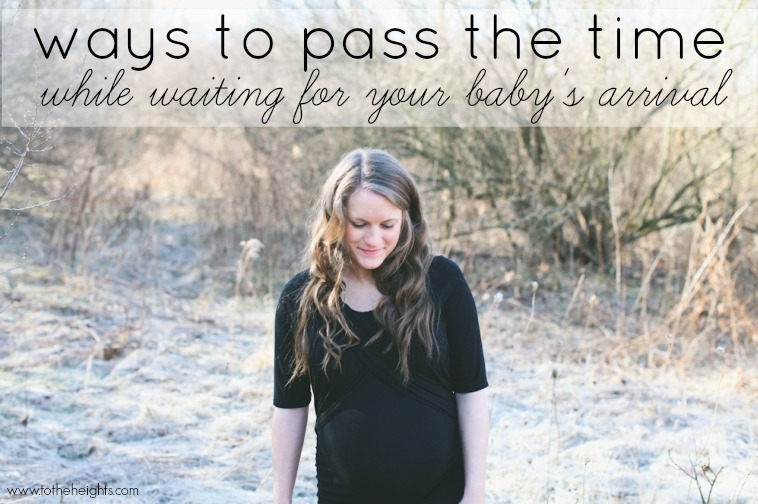 Sleep
If you have no other children, or if someone is available to watch the ones you have, sleep as much as possible. I know, this can be hard to do if you're not tired. But I would suggest making yourself sleep anyway. Maybe it's 9 months of sleep deprivation talking, but I think sleep is the best way you can spend your time at the end of your pregnancy. 😉
Nest
You may be doing this without even thinking about it. If the nesting instinct has kicked in for you, roll with it! I never got a strong urge to nest, but wish I had toward the end. Cleaning, organizing, packing your hospital bags, and stocking up on freezer meals is a terrific way to pass tons of time all while doing preparatory work!
Read
Dive into a good book. Maybe you want to finish that pregnancy and birth book you've been wading through in order to ease your mind and feel more prepared. Maybe you want to fo get your baby birthing situation all together and get lost in a fascinating fictional story. Whatever you need, take some time to put your (possibly swollen) feet up and read a book.
Craft
Spend some time preparing your baby book, finally tackle that DIY screen-printed onesie, finish up the nursery rug, or makes tokens of love for family and friends. You will use creative energy which will help you sleep better (see numero uno).
Get some fresh air
If the weather allows, get outside! Take a walk around the neighborhood. Not only will you fill your lungs with goodness, soak up some sun, and get your heart pumping, it may help start labor – win win!
Pray
Soaking ourselves in Scripture is never a bad idea. It can be especially helpful during the difficult and frustrating last days of pregnancy. If you're looking to pass the time and remain close to the Lord's Heart, take time to pray, read the Bible, journal, or read some other spiritual works. If it helps, craft some hopeful Bible passages and hang them around your house (your mirror, fridge, etc.) to keep your spirits up.
Stock up
Head out to Costco and stock up on frequently used household items like toilet paper, paper towels, household cleaners, toothpaste, and other essential and consumable items. This will take up a good portion of your day as you shop and organize; plus, it will save you time and stress once the baby is here because you won't have a shortage of necessary items.
Date your spouse
Go one one (or two or three) last date with your hubby before the new baby arrives. Spend some quality time together connecting and sharing what each of you may need during this transition. Remember that you're on the same team and that, at the end of the day, your marriage is what is most important.
Pamper yourself
Pedicures, massages, fondue restaurants, oh my! Whatever makes you feel like a superstar, do it! These kinds of activities help us relax and keep our mind from fixating on thoughts like MY BABY REFUSES TO BE BORN MAYBE I'LL BE A TERRIBLE MOTHER AND THE BABY KNOWS IT WHY IS EVERYONE ELSE'S BABY HERE ALREADY SHE WAS DUE TWO WEEKS AFTER ME!!!! What makes you feel special? Do it.
Let's hear from the seasoned mamas out there: what helped you pass the time while you waited for your baby? Do we have any expectant mamas out there who are feeling a bit of tension during their final weeks of pregnancy? Share with us! We're cheering you on!