A few months ago, Dave came home to quite a mess of a wife. Actually, he had been coming home to a mess of a wife for a while; but on this particular night, I had snapped.
When Dave walked through the door, he beheld a disheveled woman who hadn't showered (much less brushed her teeth) in days, with a colicky baby screaming in her arms, standing in the midst of three separate piles of undone laundry that comprised their entire wardrobe, and asking through tears where he would like to get takeout from that night.
This had been the norm for weeks. Between being new parents, working, and schooling, we were in total and complete survival mode. Things were in bad shape, and I knew I couldn't do it anymore.
Now, I realize that there are certain seasons in everyone's life that necessitates survival mode, and I am 100% on board with that. But at this point, I understood that I could not survive in survival mode for the next year of nursing school, and I also knew that we could bust out of survival mode if we just took some time and got our ish together.
So the next morning, I began what I affectionally referred to as The Total Life Overhaul. Dave heard this term more times than he could count over the following three+ months and has been kind in his attempts to disguise his eye rolls (just partially kidding, he's been really supportive). The Total Life Overhaul was my plan to ease the burden of survival mode, organize our entire existence, and address and improve each area of our life.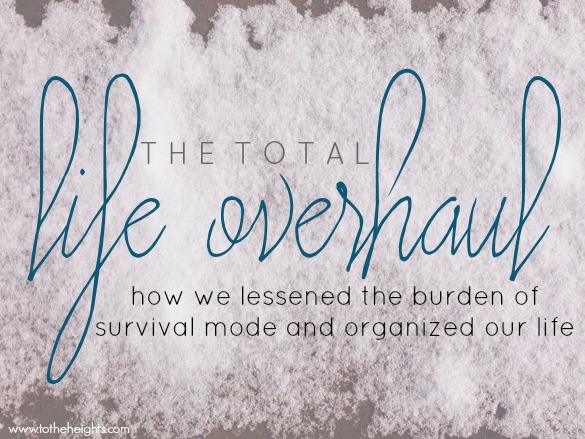 I broke down my plan of attack into the different areas of our life and started chipping away. It's been about three months now since starting this "experiment", and while we are still digging ourselves out of the hole of survival mode, I think the three of us can agree that life is certainly more tolerable and we're all a bit more sane and a heck of a lot happier.
While I am very far from even a sliver of perfection and am certainly no expert on getting a life in line or thriving to the utmost degree, I thought the world wide web might have a tiny interest in what we did to help ourselves enjoy a season of survival a little more.
For the rest of this year, then, I'll spend some time on a few posts to break down our system. Although we haven't completed everything I'll cover, I wanted to go ahead and type it out for anyone who's looking for some change in the new year 😉
Want to know the outline?
The Total Life Overhaul Intro (this post!)
How We Planned for It and Our Timeline
First Area: Spiritual
Second Area: Health
Third Area: Family Time
Fourth Area: Jobs
Fifth Area: Leisure
Sixth Area: Our New Schedule
Conclusion
If you have zero interest in the series, no worries! It won't be the only thing I'm posting over the next month or so.
If you do have some interest in it, I would love for you to follow along, and maybe even leave some questions in the comments here that you'd like answered as we go along?
Now let's buckle up, because I know I need to.