I've told y'all before that, although we live pretty crunch-ily, there are some things that I haven't been able to dive into. Well, I bit the bullet with the placenta capsules and loved it, so I figured I may need to expand my horizons again and try something that I've been avoiding for a loooooong time.
Getting rid of my beloved deodorant.
I'm a loyal fan of Secret Gel deodorant. But for years now I've been reading all about the aluminum contained in store-bought deodorants and how it may be linked to breast cancer. And in the (loosely summarized) words of my fave Patrick Madrid, if there is a risk of something causing long-term damage, then why mess around with it in the first place?
But here's the thing: I'm really nervous about ditching the toxic deodorant, which is why it has taken me so long to commit. About a year ago, I tried a "natural" deodorant I picked up from the store for 2 days, sweat and smelled like no other, and gave up on that real quick.
Now that I'm a year older and wiser (ha), I realize that it takes about 21 days to get into a routine. It takes 21 days for our body to make adjustments. So really, I need to give a natural deodorant more than two days to flex its muscles. I have to give my body time to detox, reset, and start responding to the new deodorant.
August, then, is gong to be my month of no mo' toxic deo. Not only will I give natural deodorant 21 days to prove itself, but I'll go the whole 31 days. And if you know anything about the temperatures of August in the South, then you will understand how great of a litmus test this will be.
Which deodorant did I choose to test?
There are many wonderful DIY deodorant recipes out there that are super cost-efficient, easy to make, and apparently, effective.
I'm just not there yet. I need baby steps, people.
When I discovered that Young Living has its own natural deodorant made with the essential oils that I love, I knew that this would be my greatest chance of loving and continually using natural deodorant. In fact, I ended up getting two tubes of the deodorant; once Dave saw that I was ordering it, he recalled how much he loved using it in his youth (remember, he's basically been using oils since he was born, and his story made a believer out of me) and wanted to start using it again. I admit, dear readers, that the deodorant smells pretty great when he wears it. So I have tippy-top high hopes.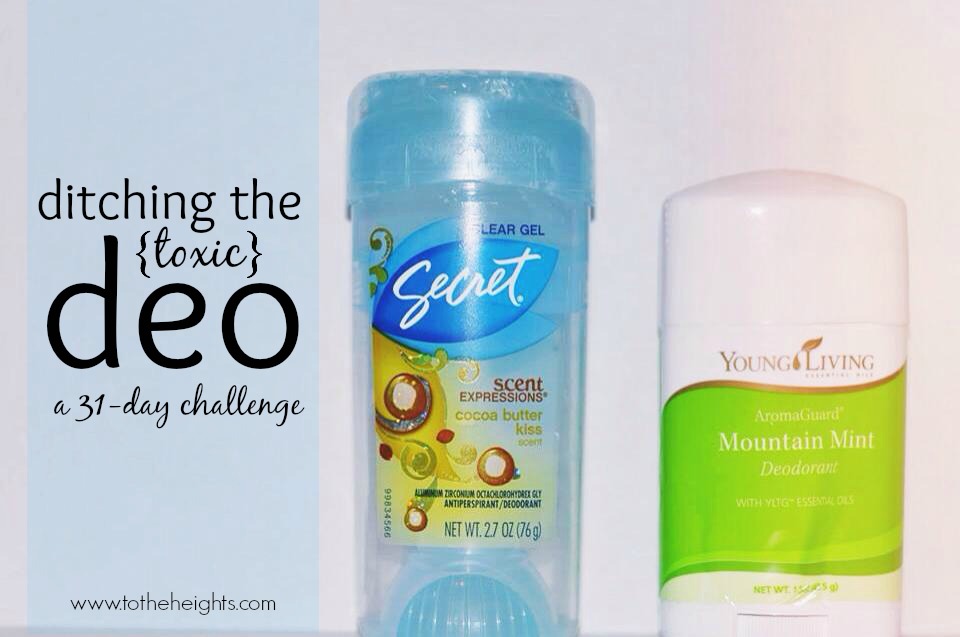 Because I am certain that you are concerned about my progress, I've decided to tweet my daily musings about this new territory. Yes, I will be keeping the Twitterverse informed about the state of my underarms and whether or not I'm going to be sold on this whole shindig. I'll be using the hashtag #nomodeo, so make sure you're following along for all the juicy (well, hopefully dry) details.
It would be rude of me to not extend the invitation to you. If you'v ever thought about trying a more natural or homemade deodorant, come along for the ride! We can hold each other accountable because I tend to whimp out on things like this.
Just to add to the anti-climactic drama – we are going to the lake this weekend with Dave's siblings and their families to celebrate his birthday which means lots of time spent in the sun. So there's that.
Wish me luck. And pray for the souls who have to hang around me.
Grazie.