In efforts to continue my savoring of this particular season in life (which is becoming increasingly difficult as I am SO over being pregnant (and I know I'll be crying in about 2 months wanting to be pregnant again)), I've deemed it necessary to walk you unfortunate souls through a typical day in my little life.
Don't feel obligated to read through it; but I really want to record a normal day for us right now. You see, I tend to be extremely forgetful, especially when it comes to the past.  Seriously, I can hardly remember anything about high school and middle school memories?  Pretty much a joke. And I know that in 5, 10 , 30 years I will want to remember what this part of our married life was like: the year and some change of our married journey without kids, but the time we've been busting it for our kids.  Of course, that won't stop just because we're having a baby (quite the contrary); but things will look radically different.
I don't want to forget.
So bear with me as you yawn through what a normal day in the life looks like here at the Heights…
4:30 – Alarm goes off.  I do the terrible and press snooze.
4:45 – David gets up with his first alarm and I slowly follow behind him.
4:47 – Call dibs on shower/sink/bathroom.  But D always wins because he has to leave sooner.
5 – Pour a glass of orange juice, down my vitamins, turn on Mumford if I'm feeling musical, and begin work for my PT.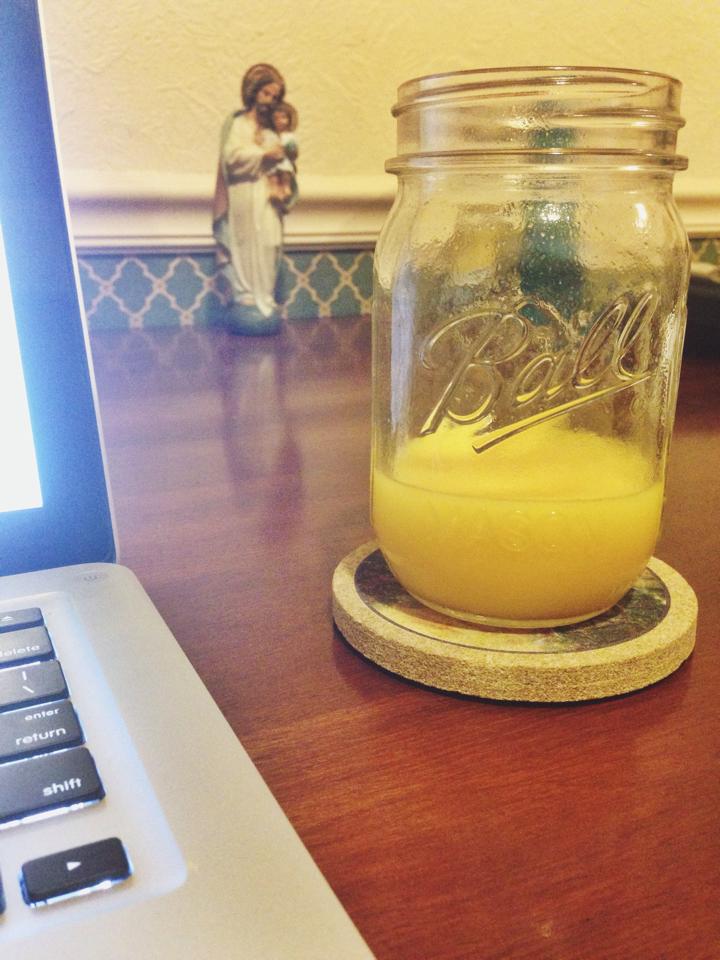 5:03 – Dave is out of the shower and is dressed for work.  He toasts us up some English muffins and packs our lunches (that's right, he packs my lunch… I married way up).
5:30 – Dave leaves for work and I hate it.  I'm still working.
6:15 – Decide I should probably shower for the day and begin to wrap up my project.
6:30 – Jump in shower and smile because I beat our neighbors to the hot water (oops).  I sing Michael Buble or Les Mis in victory.
6:45 – Realize that I'm running behind and quickly half dry my hair, throw it up, and slap some makeup on.
7 – Finally leave the house.
7:07 – Arrive at school and remind myself what we are doing that day.
7:15 – Grade/print off work/prep lesson/answer emails.
7:35 – Chat with my coworkers and get the latest scoop on which kid did what.
7:45 – Everything is ready for the day.  Take a few minutes to answer some personal emails.
8:10 – Bell rings and the minions assemble.
Should I take you through the whole school day?  I don't think so.  But let it be known that my mornings always start fantastically and by the last period I am wiped out.  So guess which is my favorite class? 😉
2:57 – Final bell rings and the kids leave.  Alleluia, another day survived.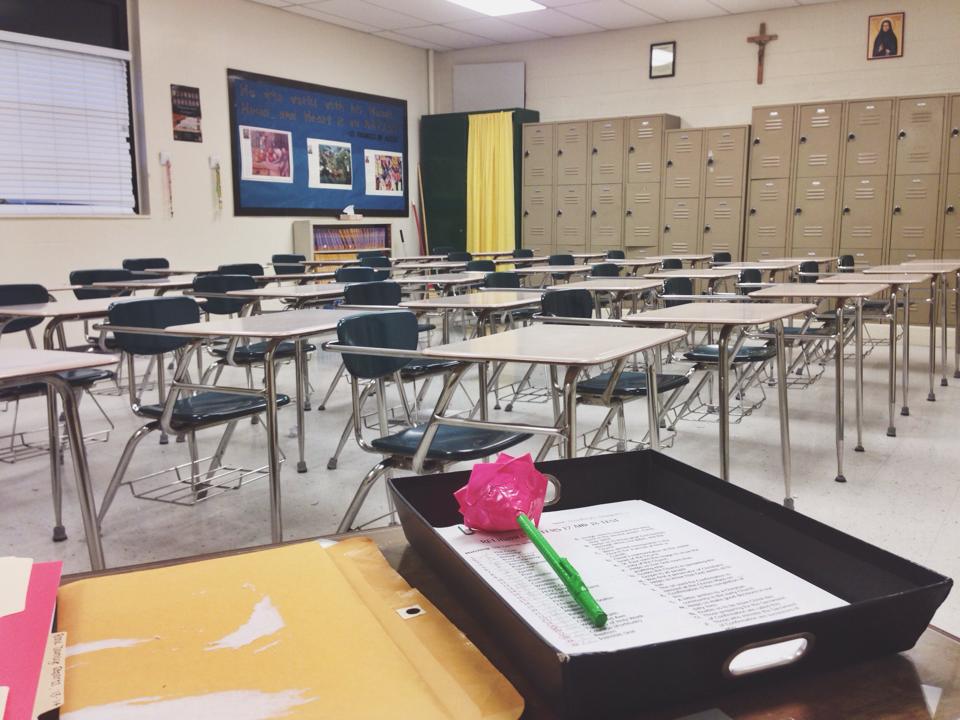 2:58 – Get things ready for tomorrow.  Grade papers.  Email parents of naughty students.
3:15 – Say my end-of-the-day prayer and peace out.
3:16 – Listen to Patrick Madrid on the way home.  Now, it is important to note that this is an extremely necessary part of my day.  Listening to the Right Here, Right Now show is pretty much a non-negotiable for me after school.  It's how I detox from the day, it provides me with some introvert time, lets me hear adult conversation, and helps me just chill.  So, Patrick Madrid, if you ever read this little blog here… THANK YOU.  Your show saves my sanity.
3:20 – Run errands.  The grocery, Target, post office, gas station, movie store, and Catholic book store are my most frequent stops.
3:45 – Realize that I'm hungry and that Nugget won't settle for the plain chips and salsa we have at home.  Swing through Panera.  God bless that chain.  We should buy stock in it.
4 – Arrive at home and scarf down food.  Allow myself 30 minutes of down time before I do anything else (Dave and doctor's orders… :/).  So I'll either read or nap or watch a bit of a show, etc.
4:30 – Start work for my PT.
6 – Look at the clock and realize Dave will be home soon.  Hooray!
6: 02 – Remember that we have to eat dinner.  Crap.  What's in the cabinets?
6:20 – Frantically throw some food together and remind myself to get better at meal planning.  Know this hope is in vain.
6:45 – Dave gets home and showers off the hospital smell while I dish up the dinner.
7 – Eat and chat about our days, prayers, and schedules.
7:30 – Back to work for the both of us.
8:10 – Run downstairs and start a load of laundry.
9:40 – Polish off the ice cream.
10:30 – Finish up work and call it a night.
10:35 – Respond to emails, try to write a blog post, get lost on Instagram for a moment…
11:15 – Nighttime routine commences and I fall into bed.  Try to say night prayers but end up falling asleep in the midst of them…
Currently – Applauding those who made it until the end.  6 years off your purgatory time.  JK, I can't make those promises.  But if I could, I so would…
So I love reading these "day in the life" posts of other bloggers – it's so neat to get a peek into others' daily lives!  So you tell me, dearest reader – what does a typical day look like for you?!  Fill me in on all the deets!