We have all heard the buzz. There was an uproar in Christian (and sane, reasonable, and logical) communities when the books became popular, and now the protestation is rampant again as the release of the first film approaches.
Ah, 50 Shades of Grey. The book series that's got soccer moms so revved up that they can't stop whispering about it at the office water cooler. I haven't read the books, but I watched the trailer and immediately thought two things: 1) I just wasted 2 irreplaceable minutes of my life, and 2) This looks like another bad Twilight rendition.
To be honest, when all the hoopla about the books and movie began, I didn't give much thought to it. Trashy and poorly written books are released as frequently as our nation's reading level drops and authors know what sells, so it didn't phase me initially. But then, then I saw some of my middle school kids reading the "Young Adult" version of the series and I got a little bit pissed. Read: a lot pissed. So I started doing more research.
I'm not going to go into detail about the ever-real and ever-solemn dangers of this movie or what we can do to stop it, but you can read about them from secular (here and here) and religious (here, here, and here) perspectives.
In this post, I want to offer some fun, exciting, and unconventional ways to celebrate Valentine's Day with either your love interest or your galentines instead of seeing 50 Shades of Grey.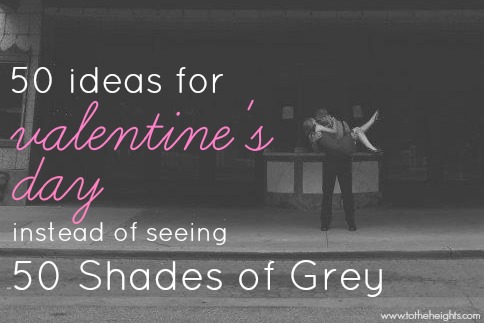 With Your Girlfriends
1. See a different movie. Seriously, there are better ones out there!
2. Go out for an experiential dinner. Check out The Melting Pot, a hibachi joint, or some other restaurant that's interactive and gets everyone involved in the cooking process.
3. Two words: karaoke bar.
4. Cook together. Make a more elaborate and fun meal if cooking is yall's thing.
5. Or order in Chinese food, pop a bottle of champagne, and toast your friendship in your pjs.
6. Binge watch a show on Netflix.
7. Play this retro game.
8. Go out on a group date. Less pressure and tons of fun.
9. Go shopping. And buy something you feel awesome in.
10. Buy red lipstick. Try different shades and find your favorite power red!
11. Have a good pow-wow. Everyone needs a good heart-to-heart form time to time.
12. Host a wine tasting party. Invited your closest gals and try a variety of wines.
13. Complete a DIY project together.
14. Start a book club. Choose a good piece of literature to read together and discuss it.
15. Dance party in your living room.
16. Or go out salsa dancing because there's not much on this earth that's more fun.
17. Watch a sappy romance movie like this one, this one, this one, or this one because they're timeless and always worth watching. Pass the tissues, please …
18. Volunteer your time. Find a homeless shelter or domestic violence shelter and spend time with the beautiful people there.
19. Experience the arts. Go see a play or dive into the ballet.
20. Go camping. Ok, I know it's February and that might sound crazy but it can be a load of fun; and talk about memories! Plus, you can end up staying in a hotel and no one else will ever know the difference …
21. Slumber party. Always a winner, my friends.
22. Cocktails and Canvases, or whatever your area calls it. Go paint a picture while drinking something yummy.
23. Take a day trip to a near by town or scenic point.
24. Play laser tag. Trust me, I'm the last person to ever consider something like that, but I've played once, loved it, and am dying to play again. It is so much fun to play with a group of friends!
25. Have an in-home spa night. Go all out with nail painting, facial mask wearing, and foot massagers.
With Your Spouse
1. Have really great sex. The kind that's total and faithful; the kind that's an authentic expression of mutual love and self-gift. You know, the good kind. It's numero uno for a reason 😉 But seriously, if you're looking for ways to spice up your marriage while respecting the dignity of your spouse, check out this post and this ebook. They are both completely in line with the dignity of the human person and provide great ideas for creativity in the bedroom.
2. Get a sitter. Allow yourself this splurge, call in a sitter for the kiddos, and get out of the house!
3. Or, if you prefer, stay in with the kids and have a fun family game or movie night. They're your valentines, too. I understand.
4. Pillow talk. A lost art form to many exhausted workers and parents, but set aside some time to have some good, quality, heart-to-heart conversation.
5. Cook an elegant dinner and dessert together. If you're not up for going out, this can be a fun way to spend some quality time doing something constructive with your spouse.
6. Or you can get dolled up and go to a restaurant that neither of you has been to before. Start making memories there.
7. Go to a ballgame. Your hubby will love this sentiment and while you may not love the sport or the team, he will appreciate the sacrificial gesture.
8. Volunteer your time. Find a homeless shelter or domestic violence shelter and spend time with the beautiful people there.
9. Experience the arts. Go to the symphony or a musical together.
10. Have professional photographs taken. You'll cherish those forever.
11. Exercise together. Get that blood pumping!
12. You know all those wedding photos you've been meaning to put in an album? Do that together while listening to your wedding soundtrack and reminiscing about that day.
13. Back massages. Glory, alleluia.
14. Make sushi together. I realize that this falls under the "make dinner together" point, but sushi is so fun that it deserves its own acknowledgment.
15. Go for a drive. Explore your city and chitty chat chat without being interrupted.
16. Explore one another's hobby. Take part in what you or your spouse loves to do for fun – they'll love having you along!
17. Listen to an audiobook together. Find a book that you are both interested in and listen to it together so you can discuss it and bond over that shared experience.
18. Play in the snow (if you have it, of course). It can relieve stress and help you to reconnect with your spouse during busy seasons of life.
19. Spend time in prayer together. Be sure to thank the Source of your love for all He has given you in the gift of your spouse.
20. Go hiking. It's cold, but the sites are beautiful!
21. Stay the night at a hotel. If you can, get out of town; but if you need to be close for the kids, stay in a local place and live like royalty for the night 😉
22. Dream together. There is something so romantic about setting goals for your life and dreaming about what's to come with your spouse.
23. Visit a place like SkyZone or Dave and Busters. It's a stinking blast.
24. Write each other love letters. The art of the written letter is nearly lost, and there is something so unique about the love expressed in the written word.
25. Snuggle. Because what's better?
 What are your Valentine's Day plans? What would you add to the list?