I'm so excited I could squeal like a little piggy.
For months now, I've been chewing and chewing on this idea, and I finally pulled the proverbial trigger.
You see, I've been itching for a better way to connect with you, dear reader. I really like(d) Facebook, but they've been hiding so many posts from you and I end up yelling at my computer screen too much. Instagram is my jam, but I find it hard to really connect there. I'm not the best at Twitter because I think it's too fast for me (but I'm working on it!), and I really have to temper my time on Pinterest because LOOK AT ALL THE PRETTY THINGS!
But you know how I really love to talk with you? Through email. I have had countless wonderful conversations with you all when you leave a comment on a post or drop me a line or question via email. It's a more private way to chat, like friends stealing a coffee break together, and I believe it's more conducive to many of our lifestyles. It brings me a lot of joy when I have conversations flowing with you in my inbox. I just really, really love emailing with you.
So I decided to start a newsletter for this blog to be able to chat with even more of you.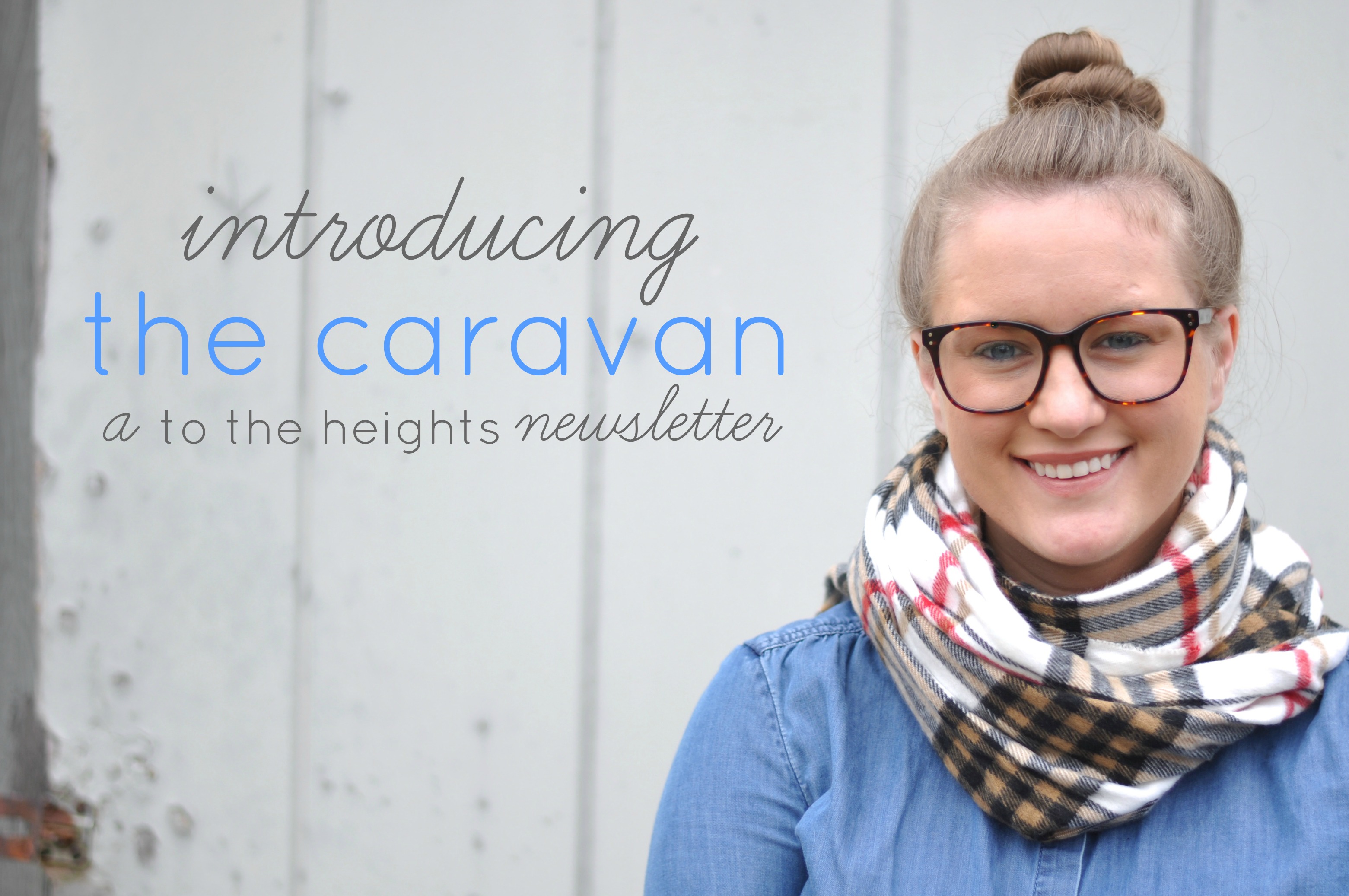 The Newsletter
I so wish I could chat with you face to face over a cup of coffee or tea. Since that's not totally possible for all of us, this newsletter is my next best option. Every month, I will send a newsletter straight to your inbox. In it, you will find an assortment of content because life is varied as is this blog. You can expect exclusive content, a closer look into our life and the goings on here, recipes I love, and interesting links from around the web. As a member of the caravan, you will also be the first to receive insider information about some exciting projects I have coming up this year. You will be able to respond to every newsletter if you fancy, and I hope you do, because that's how we will kick up some good convo.
Some questions you may have …
How often will the newsletter be sent out? Once a month.
What should I expect? Exclusive content, a round up of recent posts, a deeper look into what's happening with us, neat links from around the web, and other anecdotal shenanigans.
Will you spam me? No. That's annoying, and I do my best to not be that.
What if I don't receive the emails? When you receive your welcome email, make sure you save it so the other emails won't go to your spam folder.
Is this the same as subscribing to your RSS feed? No! If you'v already signed up to receive email notifications when a new post is up, this is not the same thing. If you want this content, be sure to sign up for this newsletter.
What's in it for me? Besides us being buddies? JK. You'll be getting my first ebook for free (see more below) and a sense of solidarity as you're in the trenches of the climb.
Why 'The Caravan'?
You know that, around here, I like to keep you company on our journey up the mountain of life. That's why I share thoughts on marriage, motherhood, natural living, recipes, faith, and style as we climb toward the heights of life. We are in this whole thing together, you know? That's why I dubbed this newsletter, 'The Caravan', because we are trekking these roads together. I'm here to celebrate your peaks and to encourage you through the valleys. That's what caravans are for. So let's all do this together.
The Ebook
Y'all, I am so thrilled to fill you in on the first ebook I've ever written.
Goal setting is a big part of our life, and every year, every quarter, every month, and every week begins with a new set of goals. Over the years, I've really honed a system for determining my most important dreams and formulating a practical plan for making them happen. After several friends and family members approached me about the kind of system I have in place, I decided to jot it all down for you. I've read several goal setting workbooks before, so I wanted to bring you all a little something fresh and out of the box.  This 16-page ebook is dedicated to helping you dream big and bring those dreams to life in concrete and actionable ways. In it, you'll find resources and printables to aid you in your goal setting process.
This system of goal setting has helped us achieve what we previously thought would be impossible or at least highly unlikely. It's helped me break bad habits and form good ones. It's enabled me to once again find my passion and purpose in this life and to gear every other little thing in my life toward that purpose. And I'm so excited and honored to share it with you. It's a project I'm proud of, and I can't wait for you to see it.
Oh yes, did I mention that you can get this ebook for F-R-E-E?!
All you have to do is sign up for the newsletter here and the ebook will be delivered straight to your inbox. Simple dimple!
A Giveaway to Get You Going
Finally, I want to pop the e-bottle of champagne to celebrate by offering you a chance to win a major award.
Valor essential oil is one of Young Living's most popular essential oil blends and is a favorite in our house. Legend has it that Roman soldiers would bathe in the oils contained in Valor before going into battle to give them a sense of confidence and boldness.
I figured that, seeing as it's a new year and most of us are setting goals and using this new ebook to help us do so (wink.), that we could use a little valor, a little bravery and boldness, in our own lives.
Valor is also super helpful for sore muscles, stiff necks, snoring, sore jaws from clinching, proper alignment, and getting rid of nervousness – just so you know 😉
So! Just enter below for your chance to win a 5mL bottle of one of my favorite essential oil blends to get you going on your goal setting and achieving!
Speaking of goals, I have to know, what are some of your goals for the new year? Let me know below!