One of the very first things that drew me to Haley's blog was her love for Our Lady, Star of the Sea.  This title and image of Mary is one that lies close to my heart; and seeing that it is a little known title of Our Lady, I was immediately impressed with how much Haley loves her as well.  Haley so generously agreed to write a post about Our Lady, Star of the Sea, and why this image of our Heavenly Mother is so striking, so inspiring, and so comforting.  And if you're not already a reader of Carrots for Michaelmas (doubtful), then head on over to see just how beautifully the Carrots clan strives toward to light of Christ under the guidance of His Mother.
As I sat down to write this post about the beautiful title for Mary "Our Lady, Star of the Sea," I couldn't place where I first heard the Blessed Mother referred to as Stella Maris. But after mulling it over for a few minutes, I remembered. Of course! My favorite piece of art! It was when I was studying Botticelli's Madonna del Libro (or Our Lady of the Book) in college.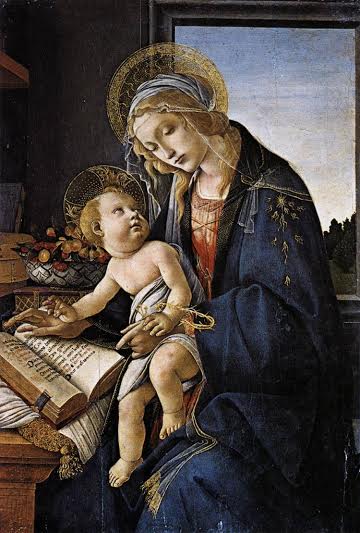 I love her tenderness and regal beauty, her devotion to mothering the Christ Child, and how she humbly accepts the way He gently teaches her as they study the open Scriptures and He lovingly gazes at her–the Crown of Thorns already present, wrapped around his chubby wrist. On the left shoulder of her mantle is a golden star, reminding the viewer that Mary is the Star of the Sea.
Star of the Sea, or the Latin version of the title, Stella Maris, speaks to the idea that Our Lady is a sparkling light of hope for Christians. Our Living Hope, Christ Our Lord, is made flesh through her. But her role as a channel of God's grace is not merely in the past. She remains a hope and guiding light because she continues to offer God's grace to humanity through her intercession and tender love. She shines bright as the model for the Christian life and as a faithful intercessor for those who call on her for help.
In many images of Mary as Stella Maris she is shown standing on the ocean waves. Often there is a ship being knocked about in a great storm visible, but she towers above the storm like a beautiful living lighthouse–a beacon for the wandering soul. She is a consolation as we encounter the storms of life.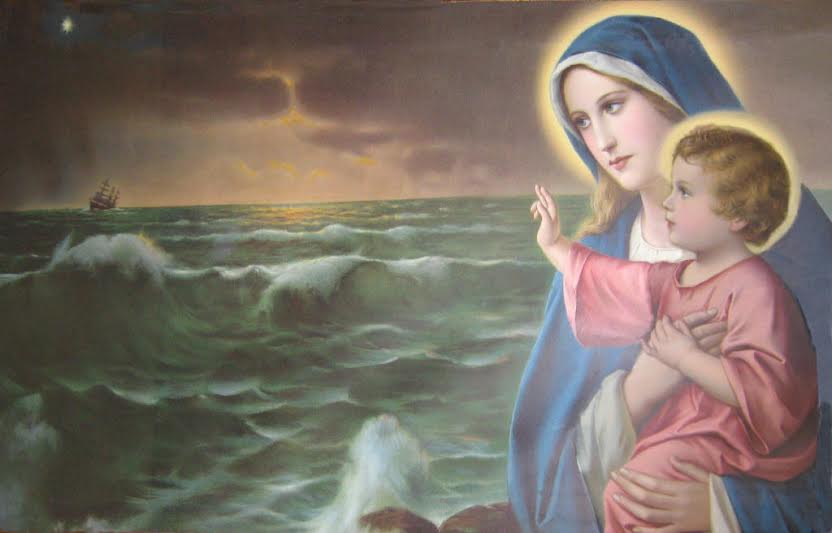 Saint Bernard of Clairvaux wrote: "If the winds of temptation arise;If you are driven upon the rocks of tribulation look to the star, call on Mary; If you are tossed upon the waves of pride, of ambition, of envy, of rivalry, look to the star, call on Mary. Should anger, or avarice, or fleshly desire violently assail the frail vessel of your soul, look at the star, call upon Mary."
In some images of Our Lady as Star of the Sea she stands on an anchor which is also a Cross. The anchor symbolizes Christ as our hope and by standing on the anchor, Mary reminds us that He is her sure foundation and the solid rock for all Christians. I particularly love Stella Maris images that portray Our Lady holding the Christ Child, displaying for us the source of our hope.
There are so many beautiful reminders in Stella Maris imagery that tell us about Our Blessed Mother. When she stands on the crescent moon, we might remember that Mary beautifully reflects the light of Christ as the moon reflects the light of the Sun. As she bravely anchors herself in her Son, Our Lord, our Blessed Mother stands strong for us no matter what storms may come in our lives. And she always points us toward the Light of Christ.