This crazy title warrants a bit of a backstory … I went to a small Catholic college called Franciscan University, and while I was a student there, I had the huge blessing of being a part of an amazing household called 'Stella Mariae' (households are pretty much like spiritual based fraternities and sororities).
When I was still in the process of initiation, we had our annual trip to a lovely Church in Pittsburgh called Mary on the Mount. On this particular year, we had the rare opportunity of actually being able to go into the church. We had time to pray, go to confession, and a priest gave us a brief teaching.
As a household, one of the major devotions that we have is to the Sacred Heart of Jesus – which is pretty much just to love the Heart that loves us more than we can imagine. So during the brief teaching that the priest gave us that night, he said something about the Sacred Heart that I will never forget. He told us that when we feel down in life, overwhelmed, sad, depressed, and lonely, that we should wrap ourselves in a big cozy blanket, sit in front of a picture of the Sacred Heart of Jesus and imagine that we are being held safe in His heart completely surrounded and protected by His amazing love.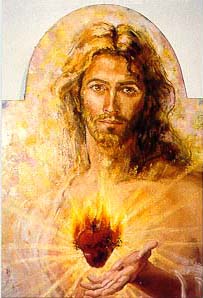 Fast forward to the present day, where I have a two-month-old baby, Leo. One night after Mass, I stuck around for a time of prayer that was being held for the teens of our parish. While my husband, who is a youth minister, was leading this night of prayer for all the teens, I was the exhausted mom standing in the back with my baby boy securely Boba wrapped to my body. I was doing the traditional mom bounce sway dance (you all know what I am talking about) in hopes that Leo would fall asleep. (By the way, has anyone else caught themselves doing this even when they are not holding their baby?)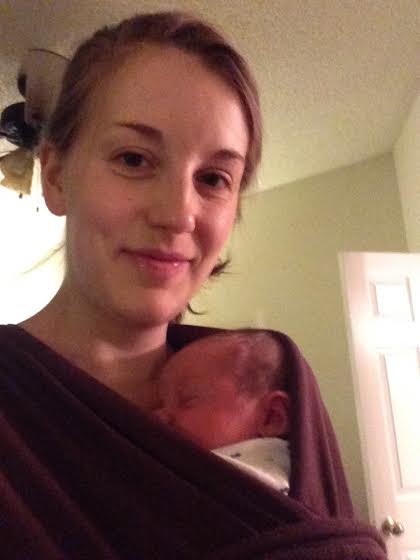 After having successfully burned tons of calories mom-dancing Leo to sleep, I took a moment to look down at his precious face. He was out, mouth wide open, completely relaxed, and snoring. All I could think about was his complete innocence, trust, and how he just loved being wrapped up tight close to his mom. He felt safe, secure, and completely loved. At that moment, I was not only thinking about how cool it would be if adults could somehow be Boba wrapped and rocked to sleep, but I was also brought back to that moment in college and what that priest had said.
In my crazy tiredness the only prayer I could think of was "Jesus, please Boba wrap me in your Sacred Heart". It sounds kind of ridiculous, but I realized that I had a complete desire to just rest in the heart of Christ. To let Him take all my burdens, worries, and troubles and to just be wrapped completely in His love.
This is something I often forget to do when being a mom gets really hard. I forget that Christ is with me through it all, ready to help me carry all the burdens of life, and ready to carry me. So often, Leo reminds me in the way that he completely relies on me, that I am called to completely rely on God. As moms we often times cannot do everything we want to, we feel so tired and worn down, and sometimes there can be great loneliness, but we cannot forget that we always have a place to retreat to with Jesus. In His Sacred Heart we will be given new life and be refreshed and renewed. It is here that we can find true rest wrapped up in His love, which for me would probably look much like Leo – passed out, mouth wide open, and snoring.