Thankfully, when you're navigating life with a new baby, they don't require much to survive and be happy. This helps ease the transition of having a new life amongst your family. At the end of the day, all they really need is the breast and a clean diaper. Pretty simple.
But we like to love on our little loves, right? And we want to take the best possible care of them, even when they don't technically need much.
Insert the million dollar industry of baby care items 😉
I've had many readers ask me about what we use for George, and whether we buy baby care items or make our own (spoiler: we do both!). So I decided to dedicate a little post to outline what we use (at least for now) and why.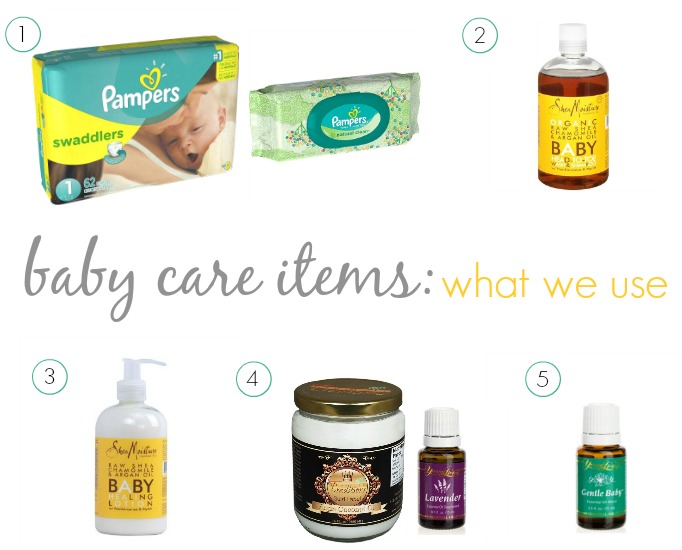 1. Pampers Swaddlers and Natural Clean Wipes: I've mentioned before that we don't do cloth diapers (yet), and we're big fans of Pampers Swaddlers. My sister-in-law gifted us with some Honest Company diapers and we love those, too! We find that Pampers is reliable, and we love their natural clean wipes.
2. Shea Moisture Baby Head-To-Toe Wash and Shampoo: Before George was born, I was decidedly going to make my own baby lotion and body wash. But then my super-smart-mom-of-five sister-in-law informed me about this amazing stuff. It is gluten free and paraben free, amongst other things, which sold me. On top of that, it is made with shea butter, which contains essential fatty acids that smooth the skin and promote healing, chamomile, which helps reduce redness, irritation, and inflammation, and contains large amounts of vitamin E.
3. Shea Moisture Baby Healing Lotion: It has the same basic properties of the head-to-toe wash, and is made with frankincense and myrrh. It smells so good that I use it on myself, too 🙂
4. Coconut Oil + Lavender Essential Oil: We tried a variety of diaper rash creams, including natural ones, but nothing ever really fully kicked the rash. So one day I decided to mix a drop of good lavender essential oil with some coconut oil and used that on George's toosh. His diaper rash was literally cleared up within the hour. We've been using this blend ever since and we see the same results every time.
5. Gentle Baby Sleeping Aid: Gentle Baby is my favorite essential oil to use on le bebe. It is an oil blend that is geared towards soothing and relaxation. This helps George calm down when he's fussy, but we particularly love using it before his bedtime. We mix a small drop of the essential oil with coconut oil and rub it in on the bottom of his feet to help him sleep deeper and longer. Which is a major win for us, too.
Then there are some various nutritional/supplemental steps I take to help keep him well via nursing:
– Probiotics: To help boost his immune system by ensuring the presence of good bacteria in his gut
– Gelatin: To promote the proper development and health of his gut, and to aid the strength of his skin and nails
– Fermented Cod Liver Oil: Because it's high in Omega-3s and vitamins A and D
– Prenatal Vitamin: I'm always taking these to help keep my body ready for pregnancy and to support milk supply
– Dark beer (it helps sustain your milk supply, right?! 😉
But what about you? Do you make any of your own baby products? Loyal to a certain brand that I should know about? Let me know below!