You all, Caitlyn is one of my favorite people on the planet to exchange emails with.  Not only is she super genuine in her sweetness, but she is hilarious and so stinking relatable.  So I was thrilled when she agreed to guest post for me during my baby moon 🙂  She is currently expecting her second baby, and has been a huge help to me in preparation for our first little one.  This post is just one example of her genius advice that anyone baking a bun should heed.  Enjoy!
Olivia here was kind enough to ask me to be included in her round up of guest posts. As this is her first baby, and I am currently baking my second, I am pulling the "older and wiser" card and sharing with y'all (and more importantly, her!) some of my postpartum essentials.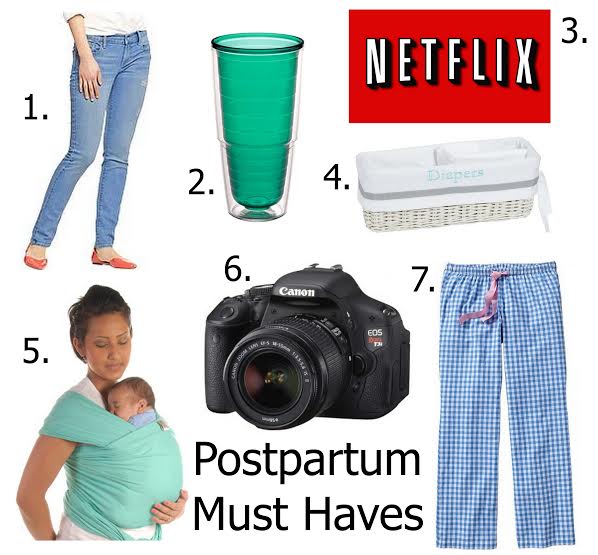 1. Clothes that make you feel excellent. Treat yourself to a little shopping shortly after the baby is born. Buy a pair of jeans that fit your new transitional size. Get a few shirts that comfortably cover and hide any excess belly flab. Make sure they are nursing friendly and comfortable enough to wear around the house but nice enough to wear on an outing. The point is, don't feel like you have to wear your maternity clothes or smash yourself into your pre-pregnancy clothes. You are a different person and a different size. It may hurt a little to buy jeans a size bigger than you usually do but your body image will thank you later when you look awesome in jeans again.
2. Water cup or jug. I've hear people rave about the glories of the water jug they give you in the hospital. I got no such thing, but if you get one, keep it. I used souvenir stadium cups and now I have a big ole Tervis tumbler with a straw. Whatever you do, have it with you at all times because nursing that little babe will make you thirsty. While you're at it, maybe keep a few snacks and Cliff bars around too. If you're anything like me, your hunger will increase a hundredfold compared while nursing.
3. A few good books and TV series. I'd like to say I read a ton of books during those early postpartum weeks but I didn't. If you have a smartphone or tablet, download some books to it. You'll probably be attached to the camera on there anyway (more on that later). Also, find a few series on Netflix or Amazon Prime or whatever you have to start watching. (If you don't have any, maybe sign up for a free 30 day trial once the baby is born!) I watched a few shows that I never had a chance to get into. Particularly for those times when I was too tired to read and yet too awake to sleep.
4 . Diaper and nursing stations. Last time around, my comfortable nursing spot was in bed. Don't get me wrong, it was glorious, but sometimes a little impractical. It made it hard to feel like I was a real person again. It was hard to be motivated to get dressed when I knew I would be in bed most of the day. So have a secondary prime nursing spot, preferably in the main living area of the house. Keep a basket of snacks, burp clothes and a few diapers and wipes there so you really don't even need to get up once you're there.
5. Baby carrier. If you aren't on the baby wearing band wagon, I'd say get on it and and get on it fast, at least for the newborn period. Some people don't love it but I think most people agree that it is great for getting things done. Now, I'm not necessarily talking folding laundry or doing dishes, but even just going to the bathroom or getting snacks out of the pantry can be tricky. It is amazing what having two free hands can do! Embrace every opportunity to have two hands available for they are few and far far between. My favorite carrier for the newborn stage is a stretchy wrap like a Moby or Happy Baby Wrap but everyone has different preferences, obviously!
6. A real camera. I'm sure about 90% of my son's first year of life is documented via iPhone. That's ok, but have a camera around for special moments and some real pictures. In 30 years when you're sorting through photos (what will that even be like in 30 years?!?), you'll thank yourself for having something a little more high quality than the early bird filter on Instagram. You don't need anything fancy just a step up from the phone.
7. Cute and Comfy PJs. Let's be honest, you're going to be in them a lot. Also, you'll probably be snapping a lot of pictures of the new babe while he's lounging on your lap. So bust out your cutest and most comfortable pair. I bought a new pair in clearance for $7 and have decided to make it a new baby tradition. New baby, new pjs.
BONUS! Friends, family and help. Accept help whenever it is offered. Even if you feel like you don't desperately need it, accept it. If someone wants to make you dinner, say yes. If someone wants to run an errand for you, say yes. If you don't really know anyone in the area or no one is offering out much help? Call whoever you do know. I'm not good about asking for help. I didn't know a ton of people when my son was born. But looking back, I realize that the few people I did know would have easily responded to me calling and asking for a visit. People like babies and even just a short visit from them to hold your new little one can make you feel infinitely better. It gives you a reason to get dressed, someone to talk to and a break for your tired arms. Also, chances are while they're there, they'll offer some kind of future help. Sound a little back handed? Maybe. But really, just embrace it.
Caitlyn is a working wife and mama who blogs over at Harvesting Home. She's anxiously awaiting the arrival of their second offspring and likes to run, sew and dream about homesteading.