While I am taking some time out to enjoy and adjust to life with a new baby, there are some incredible women who will be guest posting here at the Heights over the next couple of weeks.  I hope (and know) you will enjoy! 🙂
First up is Sheena!  You all are going to LOVE this DIY post!  Sheena from Bean in Love is my thrift and DIY project hero.  If you've never witnessed her talent for yourself, you must take a look.  Her ideas are so creative, affordable, and doable.  Today, Sheena is sharing her adventure with homemade screen-printed onesies.  My jaw hits the ground when I read through this post.  I aspire to be half as crafty as she.  And isn't her little Sebastian adorable in the onesies?! Thank you so much, Sheena, for popping by today!
Hey all!  I go by Sheena and I take up virtual residence along with my hubby, Anthony and our three babes, Seraphia, Cecilia, and Sebastian, over at Bean In Love.  We specialize in trying to be good at DIY, sewing, building, raising three kids under two years of age, and saving money – or as Anthony says, we "dabble" in a lot of things.
I'm here at the Heights today with a quick and easy DIY project in honor of Olivia & Dave's little George!!! – a custom, screen-printed onesie.  (Technically I'm not sure if this classifies as "screen-printed" since no screens were harmed in the making but, if we're being technical here we could say "freezer paper stencil" or "a glorified iron-on" – roll how you will.)
Here's what you'll need to make some customized onesies of your own:
> A onesie (plain will work best but any color is great)
> Freezer paper
> An image to transfer to the onesie
> A pencil/pen
> An Exacto knife or scissors
> Paint
> Fabric medium
> An iron
The great thing about this particular project is that there are so many possibilities of things you could embellish a onesie with.  I used a plain white onesie and whipped up a couple of images on my computer – a pair of shades and the saying "wut up" (I googled "silhouette of sunglasses" and typed out "wut up" using pixlr.com in the Impact font).
I'm not the best free-hand artist so first I traced both images onto a small piece of freezer paper by placing the paper atop my computer screen and lightly tracing.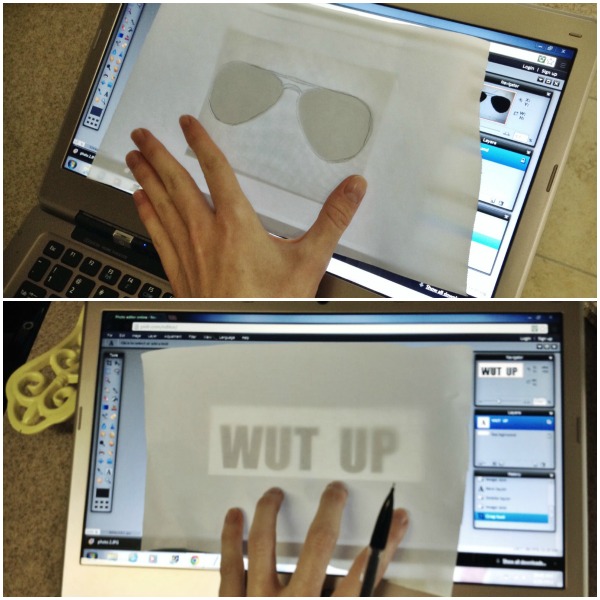 Then I cut out each design using an exacto knife.  You could also use a scissors for larger scale images and images without a lot of small detail.  Make sure when you're cutting that you save small pieces that end up not being attached to the whole design, like the middles of letters like "O" and "P" and like the small piece in the bridge of the shades in my design!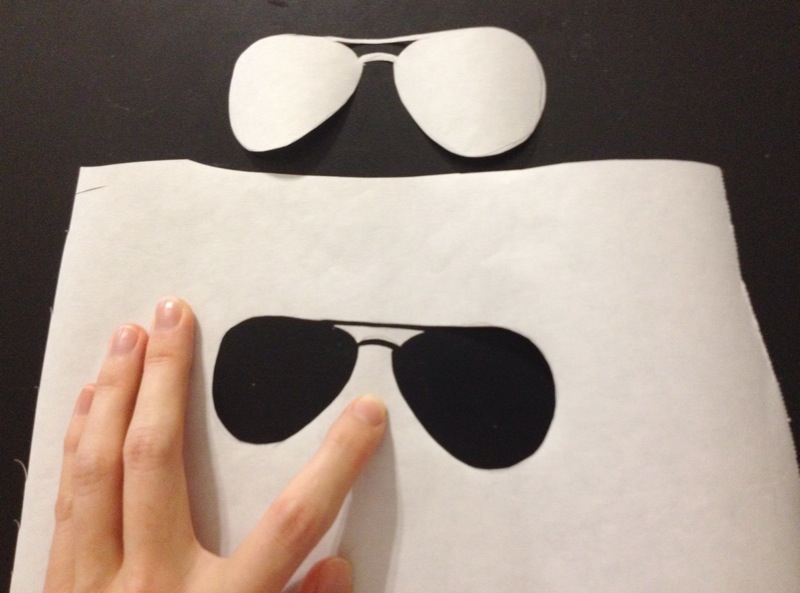 Next I placed the cut out freezer paper onto the onesie and ironed it on.  I just pressed hard over the area with the iron for about 7 seconds.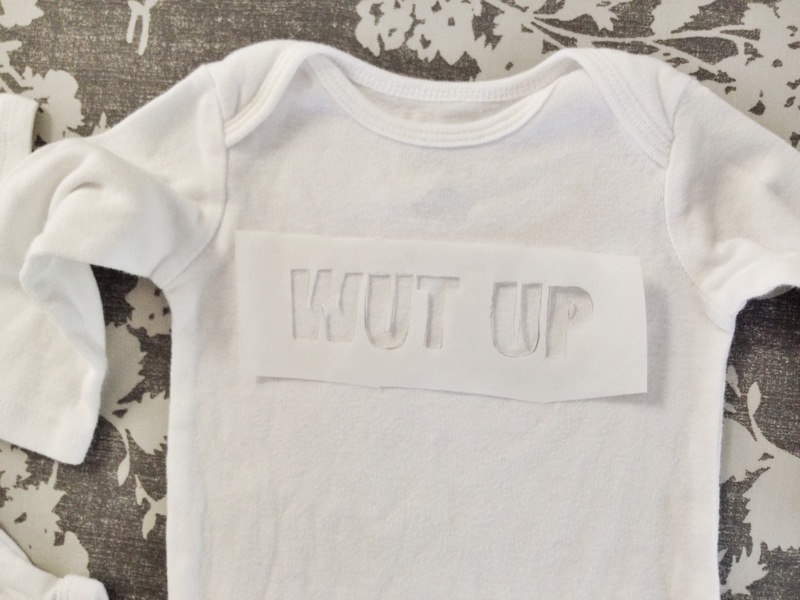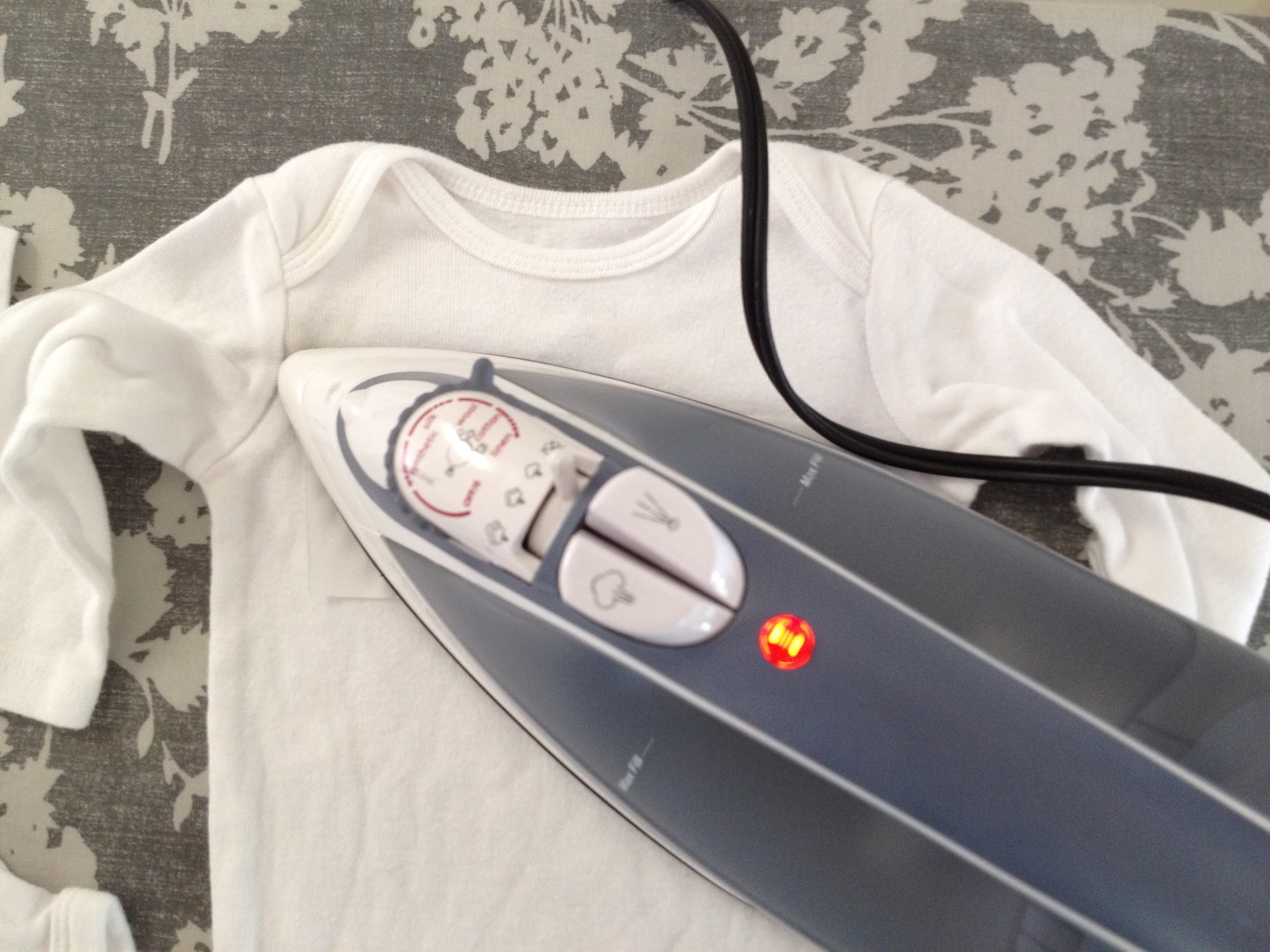 After the freezer paper was securely attached to the onesie, I grabbed my paint and sponge brushes.  To be on the safe side when it comes to the permanence of the paint on the fabric, I mixed both the acrylic paint and the latex paint I used with some fabric medium (ratio: two parts paint to one part medium) that I bought at JoAnn Fabrics.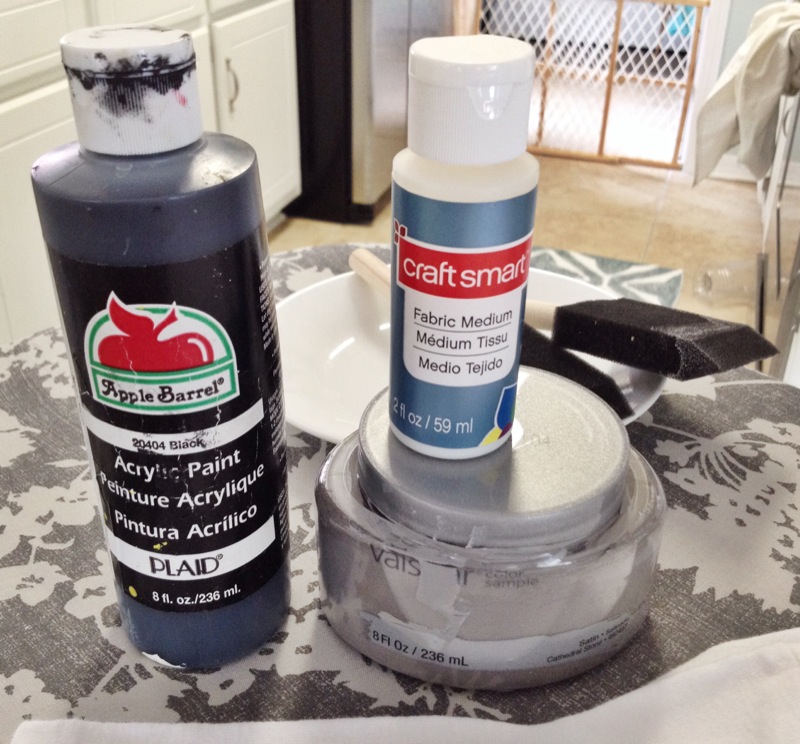 I'd say adding the medium is an optional step with the latex paint because, if you've ever painted and gotten latex paint on your clothes you know, that stuff ain't comin' off.  The acrylic?  I've used red acrylic minus the medium before and after washing it, it turned brown.  Weird but true.  So my point – be sure to use fabric medium if you're going to use acrylic paint.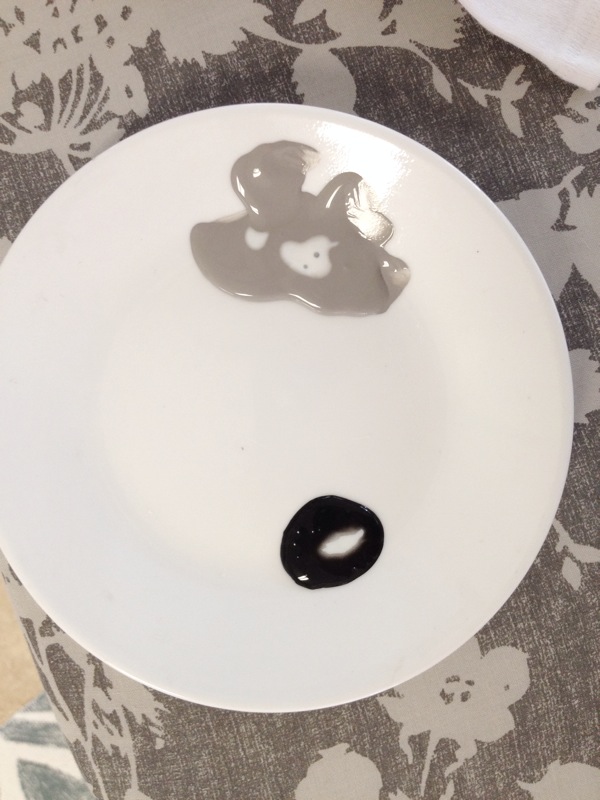 Next up, painting.  Before you start this step, stick a piece of wax paper inside/in between the front and back of whatever it is you're painting.  That way your paint won't seep through the front onto the back.  Simply sponge paint on so that all areas of your design are covered, like so: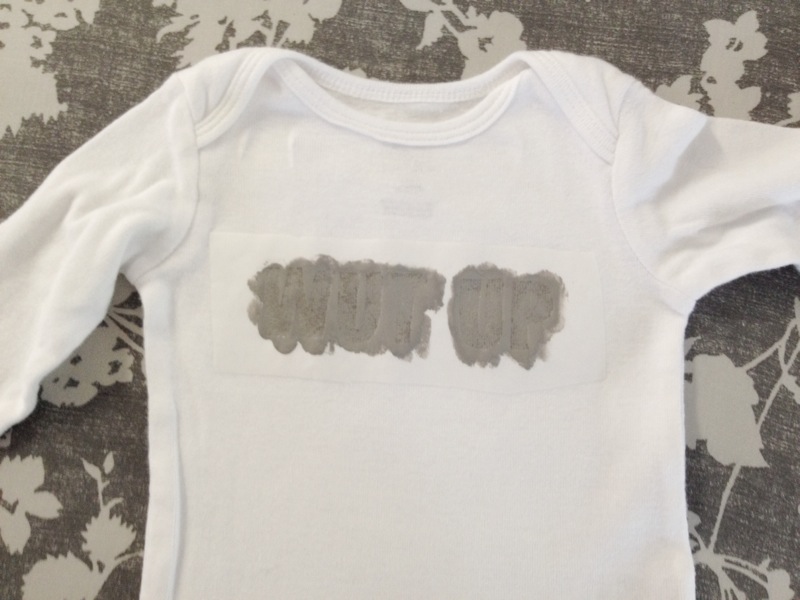 Carefully peel the freezer paper off while your paint is wet.  If you wait until your paint dries before peeling, you might peel away some the design in places where the paint is thick over the edge of the design and the freezer paper.
Last, after waiting a day for your new design to dry, you should either seal it by going over it with an iron for 30 seconds or by throwing it in the dryer on high heat for a few minutes.
And that's it!  Here's our sweet boy Sebastian modeling his new threads: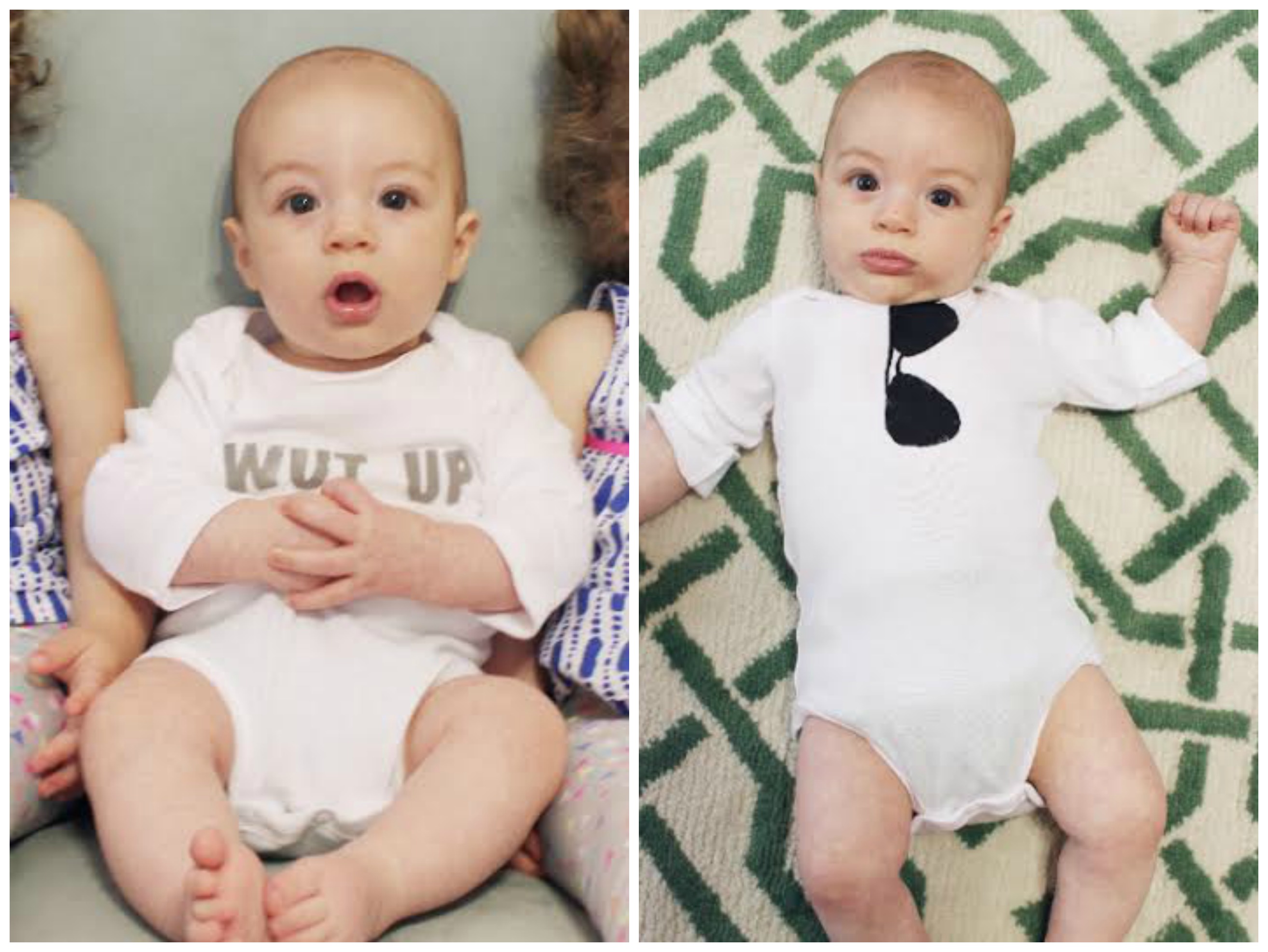 He obviously has a knack for smiling on command.
Thanks to Olivia for having me!  I'm the worst at getting meals to new moms so it was great to feel like I could "feed" her blog with a guest post while she adjusts to life with a newborn.  🙂