Friends, meet my new nemesis.
Running a 5K has been on my bucket list for a good while now.  It is a goal that I've had but have yet to complete it in any way.  I've thought about running in different holiday-themed 5Ks over the years – you know, the St. Patty's Day Run, the Turkey Trot, etc. – but I always end up ditching the idea because running 3.2 miles is just too much running for me no matter how much I long for it.
So I guess you could call us frienemies.
You see, I'm just not a runner by nature.  I don't run for fun and I don't run when I'm stressed.  Growing up, I played sports all the time and that's how I stayed in shape.  After high school, I tried to force myself into running but dropped that like a sack of hot potatoes when I discovered kettlebells.  I've been comfortable with my kettlebell workouts and I haven't really desired to try anything else (except maybe Jillian in imitation of Grace and Ana but I slightly fear falling into the same love/hate relationship as they have with her).
But this week my beautiful sisters-in-law pitched the idea of the four of us running The Color Run 5K together this fall.  Well I adore them and jumped right on that bandwagon without a second thought.  Now it's starting to sink in.  I have a date that's glaring at me and I have to get my butt moving because in 5 short months I'll be running this thing whether I like it or not.  Now, don't get me wrong, I don't mind running so much when it's on a treadmill and I have Bobby Flay distracting me with his tantalizing BBQ skillz.  Running outside, on the other hand, is where I typically draw the line.  I have nothing to keep my mind off the cramps that seize my body and I know, I just know, that I my running style resembles that of Phoebe's: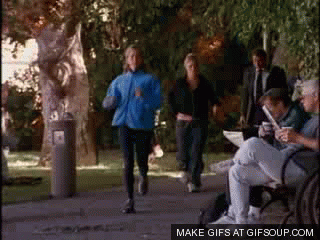 Well there's no turning back now, and after reading Ashley's incredible and inspiring post, I'm convinced that putting it out on the www will solidify my commitment to this run and will therefore spur me onward in my training.
Here's where I need you.  All you runners out there – what is your secret?  How do you train for a long-distance run (I realize that a 5K is not a super long-distance for most of you vets out there)?  Do you just suck it up and hit the pavement until you can't breathe any longer or do you employ some sort of guided training like Couch to 5K?  What has worked for you?  I truly want to complete this run and I want to complete it well.  Any advice/suggestions you have to share will be so greatly appreciated and I will owe any success I obtain in all of this to you and your infinite wisdom.