Y'all. Get ready to cry a little bit when you make and taste this gooey, sweet, savory, crunchy, and fluffy maple, bacon and bourbon french toast casserole.
While it's certainly not an everyday treat (it's really, really not good for you), we love making this for special occasions or for brunch when we have visitors. It is a decadent casserole that can be prepared the night before, making your life much easier. Seriously, just stick a candle in this bad boy and let that be my birthday cake for the rest of my days.
And I bet you'll want to make it, too. Go on, scroll down and read what's in this sucker. I'll be handing your a handkerchief through the screen to wipe up your drool.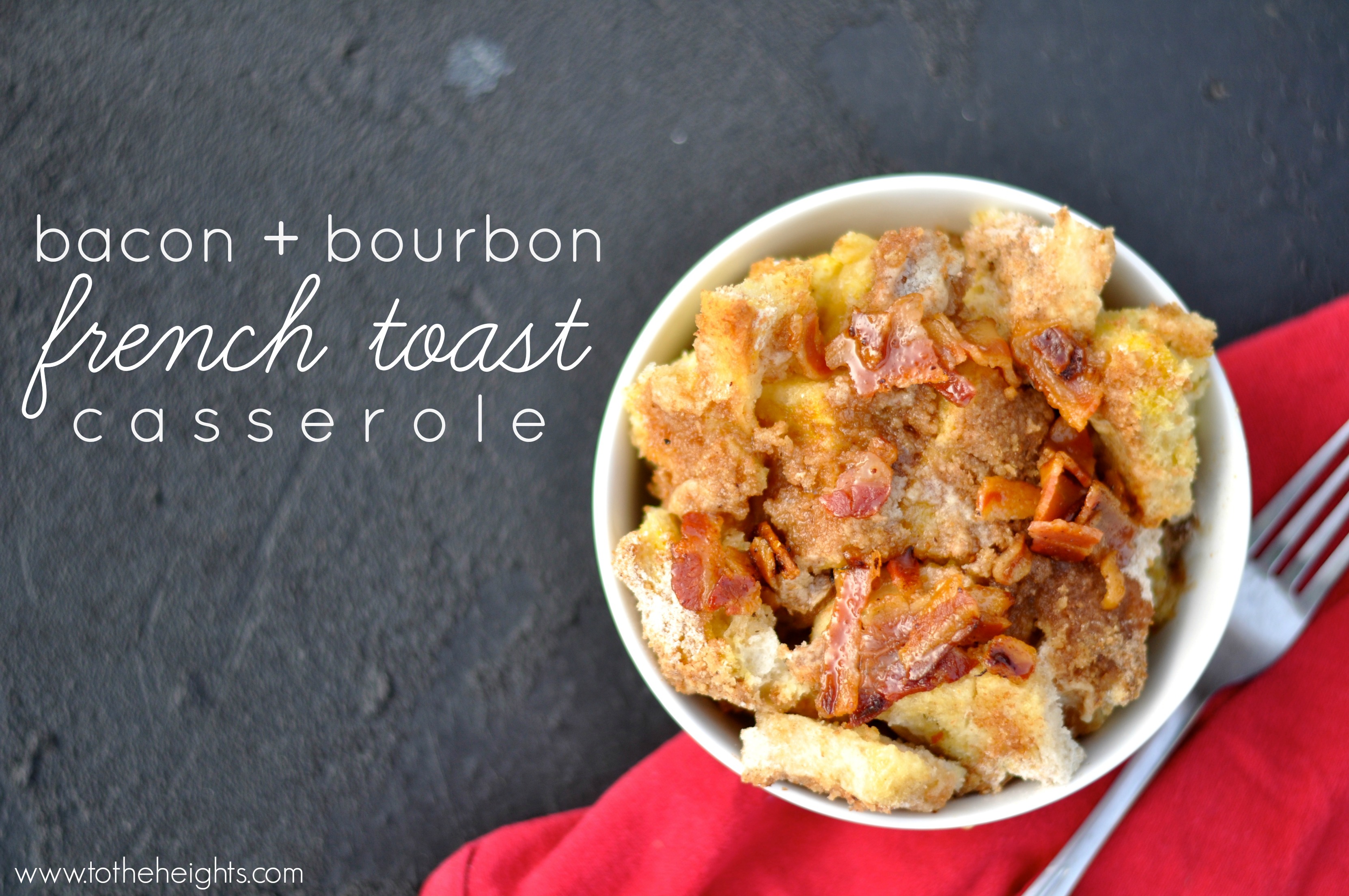 A few special notes before we begin:
I have to give credit to the awe-inspiring Pioneer Woman, whose french toast casserole recipe inspired me to experiment with my own flavors and ingredients.
The recipe calls for a shot of bourbon in both the liquid mixture and in the maple syrup. You can just use one shot in one or the other if you fancy. It won't hurt anything. Of course, this is also where I'm supposed to tell you that you don't have to use bourbon at all but WHY WOULD I WANT TO STEER YOU WRONG AND MAKE YOUR TASTEBUDS NOT-AS-HAPPY-AS-THEY-COULD-BE?!
The indicated amounts/measurements of bacon and syrup are the minimum. We always use more and you feel free to go as crazy as you'd like.
This will happily fill about 6-8 full grown tummies.
Ok, now let's hop to it.
Ingredients
For the French Toast:
Butter, for greasing
1 loaf of sourdough bread (preferably a day old)
9 eggs
3/4 cup heavy whipping cream
3 cups whole milk
3/4 cup sugar
3 Tbsp pure vanilla extract
1 shot of good Kentucky bourbon (yes, it needs to be from Kentucky, don't waste your time with the others 😉 )
For the Topping:
1/2 cup flour (all-purpose)
1/2 brown sugar, firmly packed
1 stick cold butter, cut into small pieces
2 tsp cinnamon
1/2 tsp salt
pinch of nutmeg (optional)
pinch of cloves (optional)
For the Syrup:
2 cups pure maple syrup
1 shot of good Kentucky bourbon
4 pieces of bacon, cooked and broken into small pieces
Instructions
For the French Toast:
Grease a 9X11 baking dish with butta.
Tear or cut sourdough loaf into chunks and evenly distribute throughout the pan.
In a mixing bowl, combine eggs (best if you whisk these before adding the other ingredients), whipping cream, milk, sugar, vanilla, and bourbon. Pour evenly over the bread. Cover tightly and stick in the fridge for at least a few hours, but preferably overnight.
Prepare the topping below and then go to bed, dreaming of what awaits you in the morning.
When you're ready to bake your casserole, preheat your oven to 350 F. Uncover your casserole and top the french toast with an even distribution of the topping.
Bake for 45 minutes. Top with a pad of butter and a nice pour of the syrup and stuff your pretty little face.
For the Topping:
Mix dry ingredients together in a bowl. Then, add the butter, and mix it into the dry ingredients until the butter looks like small pebbles. This is important.
Cover bowl and store in the fridge until the next day!
For the Syrup:
While your casserole is in the oven, stir the bourbon and bacon into the maple syrup and heat on low until warm and slightly bubbly. That's it! You're ready to douse your toast with it.
What's your favorite breakfast casserole? Share with me? I love delicious and easy ideas!
Want to keep this recipe on hand? Pin it!