Sweet, naive, well-meaning Olivia sat in her junior year college catechetics class daydreaming. As she listened to her professor unfold the beauty of the Christian liturgical year and how it can be celebrated richly in the home, she fantasized about her future life with D-Train and their brood of children and how they would flawlessly celebrate every Christian feast day with holy passion, organized activities, unique and delicious meals, and formal family prayers.
And then real life hit.
Suddenly, between wife-ing and mothering and working and housekeeping, my well of creativity and energy ran dry and I've been failing at liturgical living ever since. Especially during the season of Advent, I fall flat on my face, which stinks because it's my favorite time of year!
I have realized that my fantasies might not be completely compatible with this season of our life, and that I may just not be called to be a super creative mom and come up with thousands of ideas for liturgical living on my own right now.
Fortunately, that does not mean that we are inhibited from actively and creatively celebrating the liturgical year, because someone else has already done the hard work for us.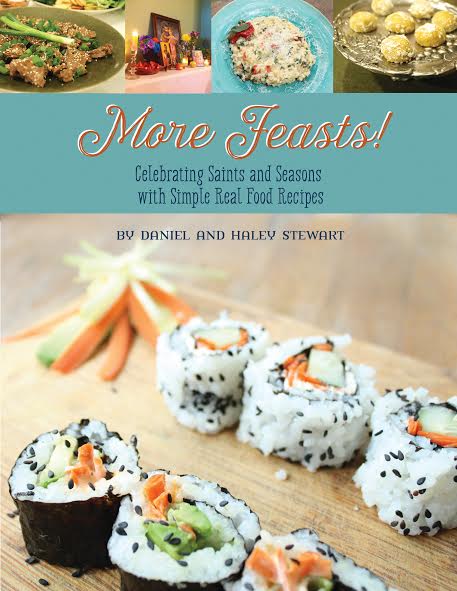 I wish I could invite myself over to the Stewart's house, pour myself a cup of coffee, and sit at Daniel and Haley's feet while they relay their wisdom. This Catholic (and much cooler) Brangelina are dynamite writers and fosterers of Catholic culture. You may have heard of their amazing ebook, Feasts!. It is a fabulous collection of real food recipes that correspond with various feast days through the liturgical calendar. The book also contains additional ideas for celebrating various feasts in the Church and reflections on different saints. The Stewarts recently released their follow up ebook, More Feasts! with even more ideas for liturgical living and simple, to-die for recipes like that sushi yo see on the cover.
Like I said, all the hard work is done for me.
I so appreciate the fact that the recipes in Feasts! and More Feasts! are made with real food and are not overly-complicated. Many of the recipes can be made in the slow cooker, which is music to the busy mom's ears.
As George gets older, I want him to be able to experience the Faith through our home environment. Feasts! and More Feasts! are going to be what help me do that. Like the Stewarts explain,
"Children learn through their senses and celebrating feast days through food and activity is a wonderful way to introduce children to the saints of the Faith. Here are some practical ideas for sharing the saints with children:

Get children in the kitchen, helping to prepare the meal with you.
Discuss how the meal reminds us of the saint or the region where he lived and served.
Pull out maps and globes and learn about where the saint was born or where she ministered.
Discuss the way Christians live in those areas today and pray for the persecuted Church.
Read about the saint's life and note the great virtues he or she displayed.
Discuss with your children how they can do little things to increase those virtues inyour family to display God's love to those around you."
Like I said, all the hard work is done for me. Thanks to the Stewarts' hard work, I am able to achieve what I daydreamed about in college because they are holding my hand through it all, showing me what I can do to incorporate the Faith into our family life without a lot of stress, and laying ideas in my lap that kids will love.
Along with many others, I feel so encouraged by these ebooks and have found them to be immensely inspiring. If you are like me and are looking to slum it in the effort department while rocking it in the Faith-life department, you'll want to check these books out!
Until December 15th, you can use the code HAPPYFEAST to get 25% off both ebooks. And the original ebook is on sale for $4.99 (from $7.99) through the end of Advent.

These would obviously make a fantastic Christmas present, and I won't tell if you buy it for yourself 😉
How do you celebrate the Christian year in your family? Do you struggle to remain focused during certain seasons like Advent? How would you use a resource like the Feasts! books?