I know.  This is pathetic.  Is this even allowed, Jennifer?
Here's the string of my excuses for my lateness: I really had a whole weekend of posts planned just for my two pretty followers and it was going to be kicked off with my first 7 Quick Takes link up (on time) and end with a rockin' outfit to contribute for the What I Wore Sunday gang, but…(deep inhale) Thursday night got cray after RCIA class and then all day Friday I was on retreat with our 8th graders (see below); then I worked Friday night right after school, then Dave's sister came in town to play for a wedding and stayed with us Friday night and we stayed up all night and wrote cool rap music that resembled what the love child of Matt Kearney and Nelly would create (such a blast!); Saturday morning I woke up early and left town because that's how far I have to go in order to give Dave some authentic peace and quiet so he can finish up his work for the semester-from-the-pits-of-you-know-where (actually I just wanted to go visit his fam bam); then, I woke up early Sunday morning to drive back in time for 10 o'clock Mass and my religious ed class followed by brunch with the parentals and to be honest I did not have much time to get ready and the weather here is less than April-like so a pictorial review of my "Sunday best" would only make your day duller and now this is the first minute I've had to write anything.
If you're still reading, kudos to you and now for the sake of your soul I present to you the following quick takes in an already-much-too-long post:
– 1 –
Like I mentioned, Friday was retreat day for the 8th graders; and, although I don't teach 8th graders, as a member of the Religion Department, I got to tag along and help out.  The day was incredibly fun.  It was nice to get a break from my baby 7th graders (and they enjoyed the break from me too, I assure you) and to connect with some of the 8th graders who I haven't been able to spend substantial amounts of time with this year.  My coworkers are the best ever and the retreat was just a reflection of their years of hard work and planning.  They've got it down.
– 2 –
During said retreat, we had a break for Minute to Win It games.  Whoever came up with these should be given a medal to honor their brilliance in coming up with ways to make those you love look like goobers.  Here are some of the gems, can you guess which games we were playing?: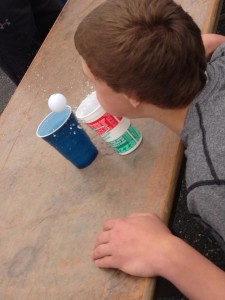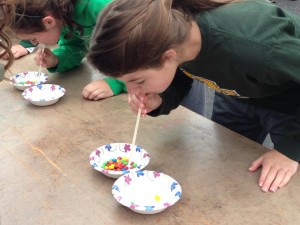 – 3 –
My blissful day with the elder middle schoolers was quickly brought to a halt upon my return to my classroom that afternoon…
Two Christmases ago, my cousin gave me a pair of beautiful gold-ball-stud earring things (clearly uncertain of their official name is but suffice it to say that they were worn by yours truly on the daily).  About a week ago, I took them out in the classroom for some reason and put them in my coat pocket.  Later that week, when I reached into that pocket, I only found one earring.  (insert panic).  I was sure, so sure, that it probably fell out in the apartment and that I would eventually locate it there.  Never did.  Instead, I spotted it Friday afternoon, in the classroom, on the floor, by the students' backpack area.  Trampled.
Destroyed by the sneakers of mid-pubescent human beings.
After I wiped away my non-tears, I saddled up like a big girl and decided to look for replacements.  I found these gems on Amazon and I'm pretty certain they will win the option for my next pair of jewels once pay day rolls around.
– 4 –
My potential life-threatening distress, however, was shortly thereafter relieved by one of my 7th graders who came in the room after school to show me what he had done in his free time that day.  We have been learning about St. Paul Miki in this last chapter, and apparently my student decided to recreate a picture of him:
Day officially brightened.
– 5 –
Again, as aforementioned, I spent Saturday visiting Dave's family and it was so good for my heart!  Most of my time was spent catching up with my sisters-in-law and playing with cuties like this one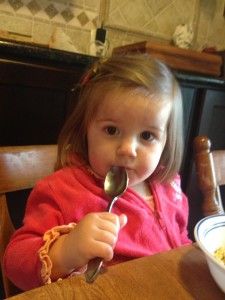 and taking warm and cuddly naps with this one.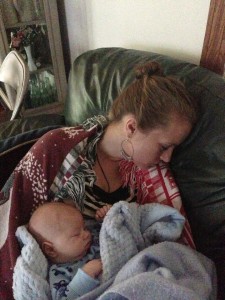 Couldn't imagine anything better.
– 6 –
So, now, today, Sunday, I sit on our couch, watching the outdoors decide if it likes to rain or not, drinking my number one sore throat tea, and watching one of my favorite episodes of Friends.
– 7 –
After I press 'publish', I'll be going over to my parents house to shower because our otherwise highly imperfect water-shower-pressure has become even more spit-like today and that is simply where I draw the line.  I can usually suffer through the pathetic excuse for a shower, but I'm no Mother Teresa and my sinful and pampered soul can only take so much.
Have a great week.