The inviting teal water washed over my feet as I hesitantly stepped deeper into the rolling waves. I was now knee-deep in the Gulf of Mexico, the farthest in I typically like to venture.
You see, my life is speckled with irrational fears. I am reminded of them each time I visit the ocean. Although I am fond of the salty sea water and the feeling of weightlessness while floating along with the tide, I don't let myself enjoy these pleasures because of my fear. What am I afraid of? Oh, silly things. Like sharks. And rip tides. My fear cripples me. But that's the nature of fear, isn't it?
My personality is one that unwaveringly errs on the side of caution, and my mind is often plagued with "what-ifs". I let my imagination wander into the craziest scenarios of tragedy. So when we found out we were expecting our first little one, I feared that my fears would increase exponentially with the arrival of this new life. I worried that I would project these paralyzing, irrational worries upon my son, which, perhaps, would be the greatest tragedy of all.
I expected to be the epitome of a first-time mom. I thought I would want to keep him in a little bubble in a futile attempt to ensure his perpetual safety. I anticipated having to talk myself out of some pretty illogical decisions based on fear.
Imagine my surprise, then, when once I held my son in my arms during the first few hours of his life, only one theme ran through my mind: adventure.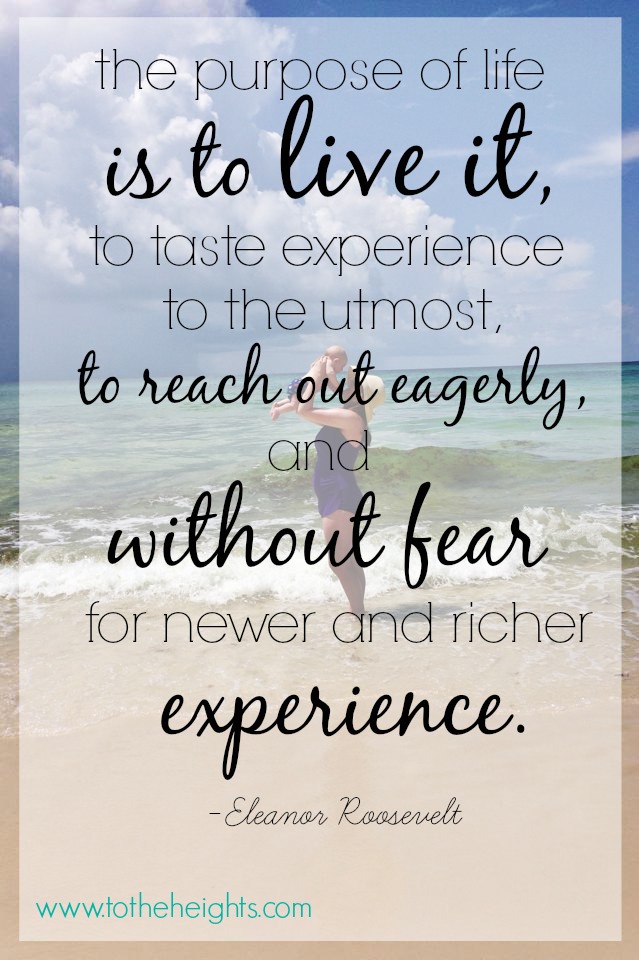 I want his life to be full of adventure, not stunted by fear. I want him to be brave like his dad, to embrace challenges and dive into this world's mysteries head first. I want him to swim in the deep ocean and experience the height and length and depth of God's creative genius.
And as I stood in the shallow water last week, my two-month old son lounging under a tent on the shore, I realized that I, too, want adventure. I want to be brave. I want to swim in the deep without fear.
Motherhood has thrust me into an adventure I don't deserve; and rather than terrifying me even more than my own imagination, it has fostered a sense of courage in my own heart. Brought about by simple necessity, this newfound courage in motherhood has surprised and pleased me. This courage is what I want to project on my son, not my fear. As he grows and learns and discovers, I refuse to be left on the sidelines bitting my fingernails. I want to be along for the ride.
So, contrary to how I expected motherhood would effect me, I find myself being stripped of the silly fears and inspired to greater boldness.
And it was with this new desire for adventure that I stepped deeper into the ocean, using the sand as my guide, until my feet no longer touched the bottom. It was there that I rested, and it was there that I determined to embark upon my new adventure of motherhood without fear.
To kick off Amy's The Happy Wife Project, I'm part of a great blog hop of moms! We're talking about our expectations of what we thought parenting would be like – and what it turned out to actually be. Be sure to read all the stops along the way!