Giveaway now closed! Congrats to the winner, Sarah Higinbotham! Thanks everyone for playing along 🙂
April's been a big month for us.  I have been busier than I ever thought I would be in the last trimester of pregnancy.  We haven't really slept much in April.  But it has been awesome.  We've taken a long road trip, made big decisions, launched major projects, had surprise baby showers, expanded our mission for wellness, had the privilege of writing for sites I admire, released a new blog design, set up a nursery, and completed another year of nursing school.
It's been nuts, y'all.  But God is good, and so are you.
So to celebrate the end of April and the beginning of what I hope to be a time of hermit-like existence until the baby comes, I have a pretty amazing giveaway to offer you, dear readers.  I truly value you and the time you take to read this little blog, so I've compiled some fabulous items for your gambling pleasure 😉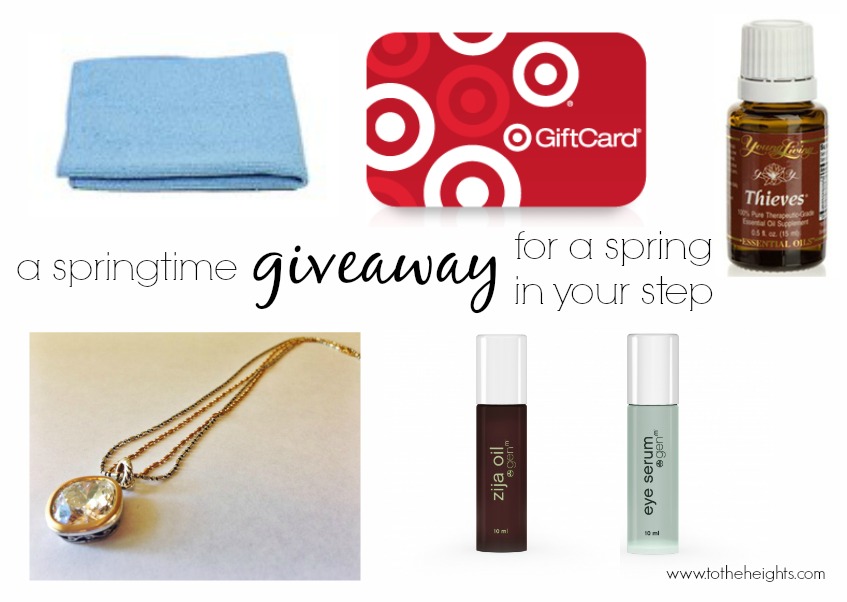 1. Norwex Enviro Cloth // Norwex's mission is to make chemical-free cleaning a reality for families around the world.  You probably recognize Norwex for their awesome microfiber products that allow you to clean various surfaces of your home with only a bit of water.  We recently obtained the Enviro Cloth, the Kitchen Cloth, and the Dusting Mit and I have been super impressed. One of my least favorite household chores is cleaning the stove.  I don't know why, but I would rather scrub the toilet 20 times than clean the nasty stove.  But with the Enviro Cloth, I no longer have to spray the stove down multiple times with chemical-laden product.  I just use water and the Enviro Cloth to get the grim off so easily and without inhaling all the junk that I'm certain does not settle well with the Nugget.  Andddd it's antibacterial (which, hello, is super useful).  From their website: "Norwex has developed a unique technology that combines an antibacterial silver-based agent with our microfiber. The antibacterial agent is actually embedded inside the tiny microfiber. The agent is solely designed to inhibit bacterial odor, mold, and/or mildew growth within the cloth." 
My friend, Eva, is a consultant with Norwex and is generously gifting one lucky reader with their own Enviro Cloth!  You know what I love about working with Eva?  Not only is she incredibly sincere in wanting to help families have chemical-free homes, but ALL OF HER PROFITS GO TO CHARITY OR TO SOMEONE IN NEED.  Who does that?!  Eva does.  So if you decide to buy a Norwex product outside this giveaway, know that your hard-earned money is going to a beneficial cause and in turn blessing others.
2. $20 Target Gift Card // My friend Kaitlin has advised me, in my final moments of pregnancy, to enjoy simple things like running into Target to "grab something real quick" without having to be a pack mull in the process 😉  Do you love Target like we do?  My cash-mo is on the fact that you do love Target.  So take this $20 gift card and go crazy.  Maybe even treat yourself?
3. Thieves Essential Oil (15 mL) // Thieves essential oil is a powerhouse when it comes to fighting infection and healing.  There isn't enough room here to list all the various ways you can use thieves, but I'll list some ways we use it in our house: to prevent cold and flu, to heal sore throats, to heal wounds, to relieve tooth aches, to get rid of cold sores, to disinfect, to clean dishes, and to heal rashes. And that's just a few!  If you're new to essential oils, thieves is a great place to start because of its incredible multi-functionality.  This 15 mL bottle of thieves will last you and your family a good long time and will hopefully help you stay well naturally!  If you have more questions about the thieves or other EOs, hit me.
4. Brighton Necklace // Because you're pretty and you deserve to wear pretty things 🙂  This Brighton necklace is an 18″ two-toned necklace with a lovely gem pendant.  You can literally wear it with anything.  Are you a dude?  Don't worry – give this beauty to a lady in your life and score major brownie points.
5. Zija Oil and Zija Eye Serum // I've talked about Zija before and about how it helps us stay healthy and energized.  From the website: Zija Oil "is packed with natural ingredients to nourish, purify and repair minor cuts, dry spots, cuticles and skin impurities."  We use Zija Oil all the time to help heal scrape and acne scares and I LOVE to use it on my cuticles and other dry areas of skin.  The Zija Eye Serum has saved me from mondo-bag eyes this year.  It reduces redness, puffiness, and signs of aging.  Therefore, I'm all up on that b.
I would want to win this giveaway, y'all.  All together, the items value over $220!
So step right up to our good friend, Rafflecopter, and start praying your Memorares 🙂  Giveaway ends Sunday night!
I really hope you're the winner.  Yes, YOU!