Wow.  It's been a long time since I sat down to write a post at the Heights.  Truth be told, I haven't even seen my dashboard in what feels like ages, and it's nice to finally catch up on emails and comments.  Was the hiatus planned?  Of course not.  I would have given some forewarning.  But it came at a time when I needed to take a step back and focus on the top priorities in this little life of mine.
However, I feel that I owe you some explanation, and lots of apologies, for my absence, in hopes that you'll understand why I departed from the e-world for a while.  And!  The reasons will flow in bullet point format because that's the only way my snow-day, Christmas shopping, lack-of-caffeine brain is working today…
– School.  I tried to warn myself and everyone around me that once school started, this wonderful hobby of mine might fall to the wayside a bit.  And y'all, it's been more hectic than I anticipated.  As a second-year teacher, I've been entrusted with extra responsibilities, which has been such a great learning adventure for me.  Adjusting to a new 7th grade class (along with an extra Religion class I get to teach) has taken a lot of time and thought.  Every class that comes through any school is unique and wonderful in their own way.  But this 7th grade class, y'all, they are something else.  They are literally a dream.  Sure, every class has their knuckleheads, and there are a few who will always be thorns in my side, but this class is something special.  Therefore, I am able to actually teach so much more, and so much better.  And they want more.  They have stretched my creativity and my spiritual life in fantastic ways.  As a result, they require more of my time, which I love, because I get to spend my days with these crazies.
– Dave's Schedule.  Remember when I told you about the shift in Dave's schedule for this year?  Well we are knee-deep into it and I have not enjoyed it.  I look back and laugh at summertime Olivia who thought that maybe having David home each afternoon would be better than having him home on the weekends.  HA!  Ignorant!  It's way worse.  Now, don't get me wrong, I love coming home to Dave during the work week.  It's nice to have him there after school.  However, I would much prefer to be without him for a couple of hours in the afternoon during the week than to be without him for the entire weekend.  What does this have to do with blogging?  Well, I'm used to blogging during said afternoons.  Now, when I get home from school, I relish my time with D-Train and do my best to help him with balancing school and work.  My weekends are spent on other projects, thus, my time to write is limited for the sake of my number 1.  Well worth it.
– Lack of Internet Access.  It's a long story involving our neighbors moving to South Africa – suffice it to say that we have not had internet access for a few weeks, so we are bumming it in cafes until we find the best provider.  Suggestions are welcomed with open arms.
– The Cabin.  My parents did something wild this Fall- they bought a cabin near a lake our family frequently visits.  These two people deserve such an oasis in the woods, with land and water and silence and a wood-burning fire and a killer view.  They deserve it more than I can express.  Anyway, they bought this little run-down place and have totally transformed it over the past few months.  It's taken some major work from the whole family, but this wonderful family that God put me in is never short on generosity, so we've spent many a weekend at the cabin to help fix it up.  I mean this place needed some serious work; now, it looks like a page straight out of a Pottery Barn catalogue.  There's still some more work to do, but when it's officially complete, I'll write a post that includes Befores and Afters so you all can take a peek as well!
– Traveling.  This fall, I have gotten to do more traveling than I thought I would.  We have been able to visit David's family more than anticipated, and I got to spend a whole weekend with my best friends in Northern KY.  Now, for me, a weekend away doesn't just consume a Saturday and Sunday, it consumes the whole two days before and after to pack and unpack.  I need to work on that… Needless to say, the past few months have felt like a mere few weeks.  I can't believe we are sitting high and mighty in December.
– Side Projects. I've been blessed to be invited to work on some various other projects that have really challenged me intellectually and as a catechist.  These ventures have opened many doors for us, and I am grateful to spend time working on them.  Perhaps in the future I will be able to divulge more detail 😉
– Finally, I should fill you in on the biggest reason I had to take a break from the bliggity blog.  It's just a little reason that has had a major impact on my energy to exercise abundant amounts of creativity, my time spent away from my new BFF, the toilet, and my ability to stay awake past 6 p.m.  Best readers in the world, meet our best little gift in the world.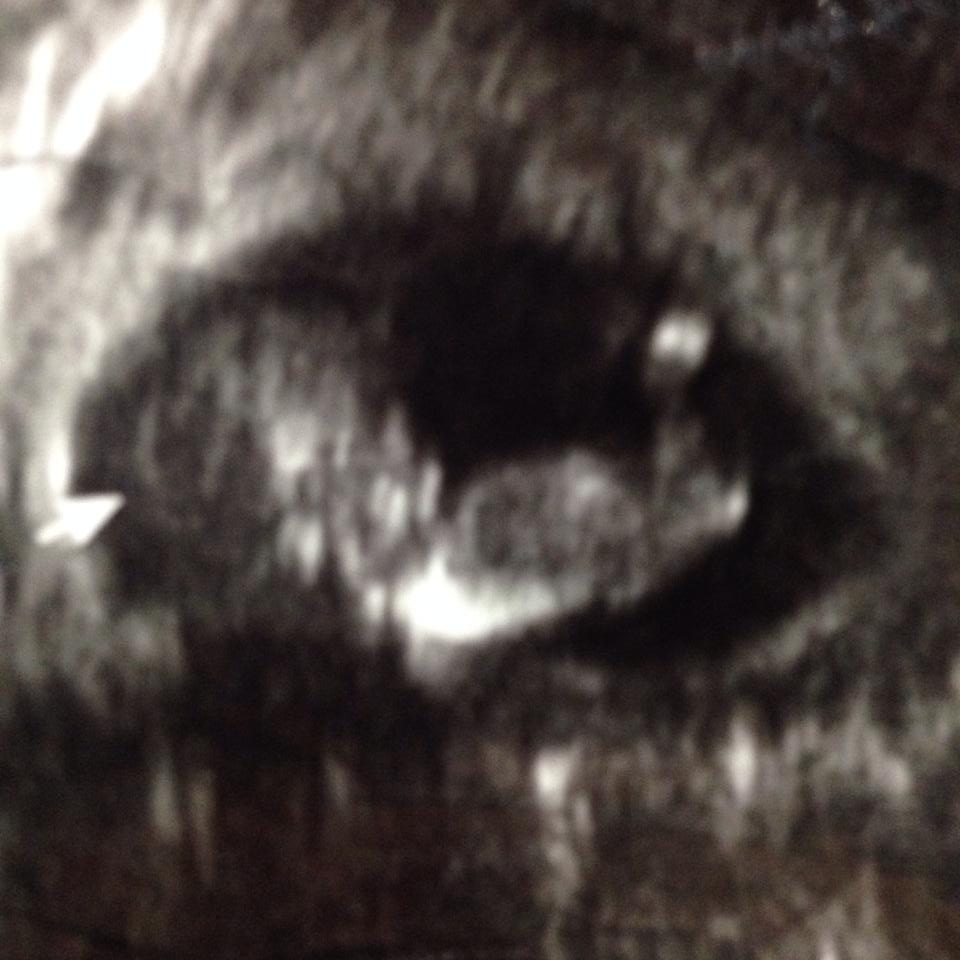 Mmmmmhmmmmm.  That little love muffin has stolen our hearts and everything else we're made of.  But the baby is so small in that picture taken at our 12 week ultrasound.  I'm now 17 WEEKS along… 17 weeks!  So the nugget is much larger now and making its presence known to the outside world.  I'm due May 17th, two days after the last day of school!  And we've already had two snow days.  You do the math.
We could not be more thrilled, humbled, and honored to be the parents of this tiny one.
I hope this post sheds some light on why I had to take my hiatus from the blogging world.  Thankfully, we've had a very healthy pregnancy, which has been affirmed by all-day-sickness (who titled it "morning sickness" anyway? because I'd like to have some words with them) and holy-cannoli-kinds-of-fatigue.  My goal through the first trimester was to make it through the school day.  Any minute levels of energy I had leftover after that was spent on the aforementioned.
Now that I am well into my second trimester, feeling my energy come back, and am only really sick in the mornings, I see a return to the Heights on the horizon, and I couldn't be happier about that.  I missed this space that means so much to me and serves as such a fantastic outlet.  I can't promise daily posts like the summer allowed (that was wonderful for me!), but I will do my best to be more present here.  Plus, I've got like, 12 post drafts in my 'Drafts' folder and about 5 more sitting in my brain, so I've got to flesh those out sometime 😉
Now, it's your turn.  What have I missed?  What have you been up to this Fall?!  Tell me everything.