I'm a Jen junkie.  And it's Friday, y'all.  Alle-tothe-luia.
– 1 –
The other night, after I had said/done something that ranked "questionable" on the normalcy scale (couldn't tell you what it was, just a day in the life), David looked at me and said: "Sometimes I forget how weird you are".  Ha.  So lest he be tempted to assert that I am the lone oddball in this union, I present to you the following evidence…
Yesterday was David's brother's birthday, and his siblings all sent brief videos to him wishing him well on his day.  Since Dave was rounding out five consecutive 12-hour shifts (!), and seeing as his brothers love to maximize on the teasing of his "male-nurse" profession, he decided to record his piece during his lunch break.  Here is the product.
Fah-reak.
– 2 –
One of my favorite aspects of my job (besides what and who I teach) is my co-workers.  I would have never predicted how much I would rely on them not only for their stellar and experienced wisdom but also for my own sanity.  Chatting with adults in the middle of a day bookended by preteens reminds me that my vocabulary actually does expand beyond words like "like", "unfair", and "duck face".
– 3 –
New to our staff this year is a young woman close to my age who I am becoming increasingly convinced is my long-lost-teacher-twin and my saving grace.  It is her first year teaching and I am still such a novice that we are banding together for the long haul of learning.  She makes what might otherwise be unbearable days and situations hilarious through texts, and of course she supports and revels in recovery post first week back via adult bev and mindless sitcom watching.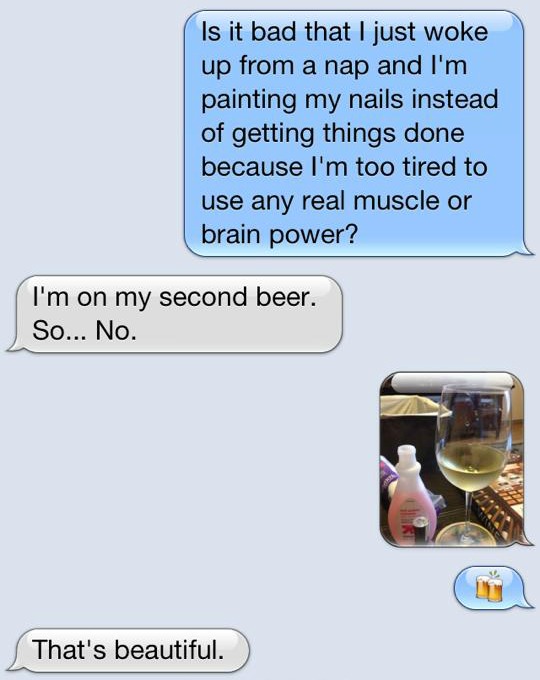 – 4 –
I posed this question on Facebook and Twitter and got some fun responses, so I want to pitch it to the blogosphere: What was your favorite school lunch?  I loved both brunch and chili and if you gave me an Indian burn and made me choose between the two you would get this reaction from me: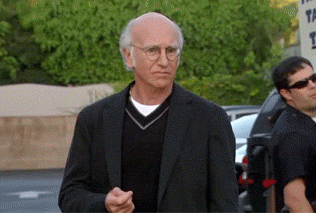 but I would probably choose the chili.  It's sort of humiliating but I'm not above self-deprecation so I'll have you know that on chili days, I finished everyone else's scraps.  Feel free to invite me over for clean up at your next Fall potluck.
– 5 –
Over the past few weeks, we've been having major sink drainage issues and haven't been able to use our bathroom sink.  Insert exasperated, spoiled sigh.  BUT!  This week we finally broke down and called the man and our sink is now draining as if it were back in its prime.  I didn't realize how such a small factor could influence my well-being so much.  Brushing my teeth in the bathroom as opposed to the kitchen is a luxury that I will never again take for granted.  Aaaaaand now you don't even believe that I served on mission and even decided to go back.  I understand your disbelief.
– 6 –
Want to see the fanciest thing I did all week?  I know you've been waiting…
Watch out, world.  It doesn't take much to make this wifey proud of herself.  You can go ahead and give me a major award for doing what the rest of you excel beyond all day, every day.  And I'll be posting the recipe for those delicious chips soon.
– 7 –
Have you seen what's been going on over here at the Heights?!  If not, make sure you enter to win a necklace and bracelet combo from Premier Designs so we can be twins!  School starting for your kiddos soon?  Want to love on their teachers a bit?  Check out my first day of school survival kit for the teacher (and I should expand that time frame to "first month of school").  And my favorite outfit pro, Erika, was here yesterday to dish on Fall fashion staples!
Hasta luego, bebes.  Have a fabulous weekend.
---
Bloglovin' // Facebook // Twitter // Pinterest // Instagram