I am so excited/honored/thrilled to have Erika from Stethoscopes, Style, and Grace over today.  Erika's blog was one of the first I ever read, and I've loved it ever since.  Not only do we have so much in common (and she covers all those bases below), but she is also my go-to when it comes to fashion because she always looks so polished and she can combine different pieces of clothing like no other and I usually struggle in the cute clothes arena.  Erika has so kindly agreed to give you, dear Heights readers, a peak into the look of the upcoming fall season (but judging by this weather, it is already upon us).  So I'll let her take over while I go to the mall to copycat these exact outfits because, you know, monkey see…
I'm Erika from Stethoscopes, Style, and Grace where I blog about style and life as a Catholic newlywed and fourth year medical student. One of my favorite things about blogging is the people who I've met along the way, and Olivia is one of them! We're both grads of Franciscan University of Steubenville, newlyweds, J. Crew fans, and Ecuador lovers. We also share a similar sense of style (her wedding dress is the one I almost chose).  Olivia asked me to share some fall fashion tips, which is perfect because I love everything about fall: the boots, the chunky scarves, the light layers…Here are some of my favorite looks and essentials for fall.
1. Blazer//scarf//booties
A blazer in a neutral color is the perfect transition piece for summer to fall. For a classy, put-together look throw it on with some skinny jeans and add a scarf and booties. Target has some great grey suede booties and try liketwice.com for some high quality pre-owned blazers.
2. Baseball top//statement necklace
A baseball top is flattering on all shapes and sizes and may be more versatile than you think: I own this J. Crew baseball sweater and wear it with everything from pencil skirts to jeans and shorts. A fun statement necklace adds a little glam. Express has a baseball tee right now available in tons of color schemes.
3. Denim//Chambray//Stripes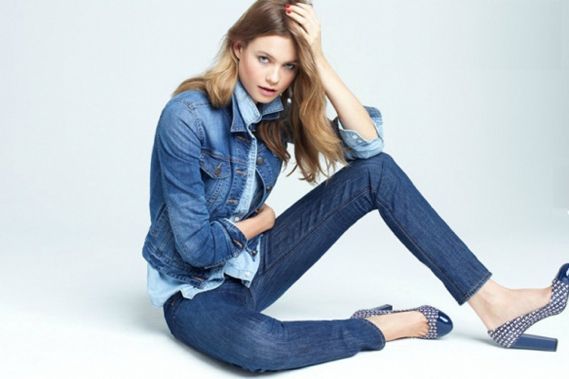 Every girl needs a perfect pair of jeans and a basic striped top in her closet. Add some fun heels and you're ready for date night! A button-up chambray shirt is another great essential for fall (try it with everything from denim-on-denim to leggings/boots to pencil skirts). Last but not least, denim jackets are back in style and add a lot of versatility to your fall wardrobe (although I don't know if I'm brave enough to try the jeans/chambray shirt/denim jacket look). For some classic denim jackets and chambray shirts that won't break the bank, try Old Navy, Target, or J. Crew Factory.
4. White jeans//bright sweater//chambray
White pants aren't just for summer anymore! A great-fitting pair of white jeans is another good transition piece for summer to fall and can be worn so many ways: layering a chambray shirt under a brightly-colored sweater and adding some patterned flats is just one.
5. Military jacket
I've always been a fan of military jackets and am so glad that they're back for fall. Wear one with a chambray shirt to transition a pair of colored spring/summer pants or layer it with a scarf/leggings and brown boots for a classic fall combo. Old Navy, Gap, and J. Crew have some cute military jacket options.
I'm going to be shopping my closet and using these pictures as inspiration for an upcoming fall style series, so check back to my blog if you like (and feel free to join in!) Thank you, Olivia, for having me!
---
Come and join the partay!
Bloglovin' // Facebook // Twitter // Pinterest // Instagram