Earlier this week, I hosted a Premier Designs Jewelry party for my friend, Kimberlee, who is a jeweler for the company.  I threw the party at my parents' house (thanks, mom and dad!) because having a party in our little apartment would be like trying to shove all three loads of laundry staring at me from across the room into the washing machine at once.  It ain't gonna happen.
Now, when I do things like this, whether it be hosting a party, making a big meal, or even bringing a side dish to an event, I typically stress out.  It's totally self-imposed pressure for every dish to be complicated, fancy, and perfect.  Now, while it's true that this desire rises from wanting the best for my guests, the stress I place on myself tends to drive me up the wall and probably makes me miserable company for my guests.  I tense up due to the amount of time it takes to make all these intricate dishes by hand and the "necessity" of them being perfectly timed.  Consequently, I end up shutting down and my ability to enjoy the gathering is hindered.
So, I decided that this party would be different.  It was going to be a smaller group of women, and the style of the party was more laid back, light, and fun.  I wanted to compose a menu that reflected femininity and simplicity, while still satisfying hungry bellies.  Naturally, I turned to Pinterest for guidance.  I picked what I thought were a few random dishes and resolved to go for it.
Let me tell you, friends, that this was the greatest, easiest, least stressful party menu I've ever put into action.  Thanks to accepting pre-made help from the grocery store, I finished virtually all of the prep work in under an hour, the cooking was minimal as was the chopping, and it did not take long to "put it all together" before the guests arrived.  I actually enjoyed preparing the food and setting everything up!  I was not stressed the entire day.  Miracle.  The best part?  During the party, I wasn't consumed with the task of timing, baking, etc., and I was able to revel in my time with my friends and family.
Hosting should be about spending most of your time with your guests, not with your oven.  And don't fret about a simple spread being up to par: people raved more about these dishes than any other dish I have ever made for a gathering.  This menu allows you to relax, enjoy your guests, and impress them all at the same time.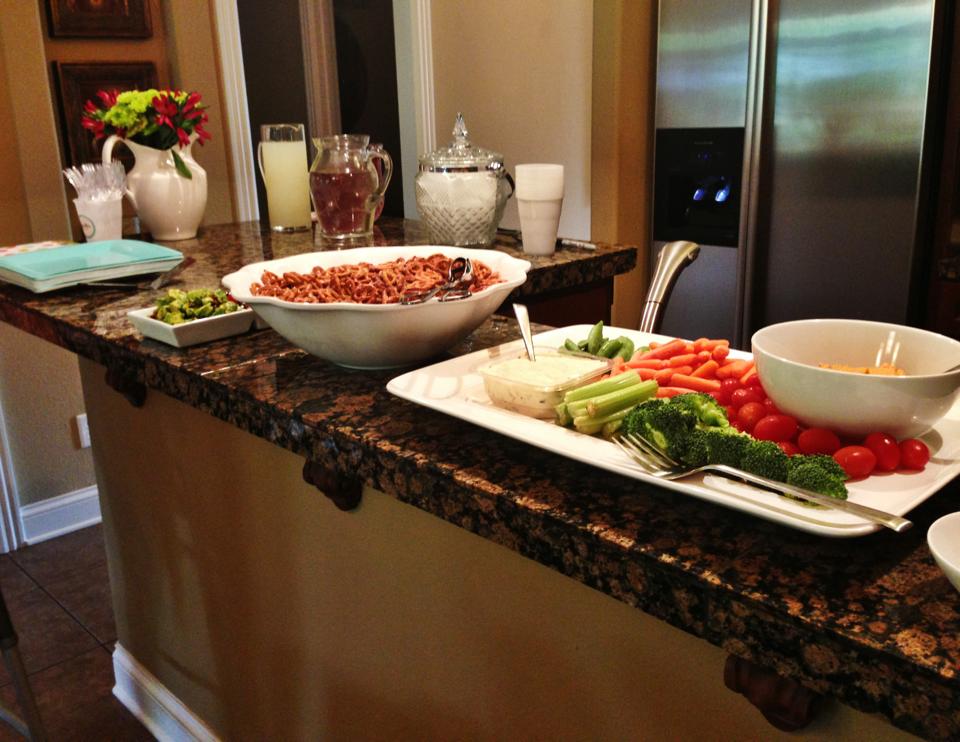 These were a huge hit!  And soooo so easy.  Grab a baguette from Wally World and slice it diagonally into 1/2 inch slices.  Brush each side with olive oil and bake in a 400 degree oven for about 5 minutes (or until golden and toast-like.  you know). Pile one or all of the following on to those suckers and I dare you not to eat fifteen of them.
Toppings

Pomegranate, Blue Cheese, and Pine Nuts // De-seed a pomegranate, then toss in blue cheese crumbles and toasted pine nuts.  It sounds like a weird concept but the flavors all work together in a phenomenal way.
Tomato, Mozzarella, and Basil with a Balsamic Glaze // Oh my.  I could eat this on everything.  Halve cherry tomatoes, add mozzarella pearls and shredded basil, and top with balsamic glaze.
Avocado, Sun-Dried Tomatoes, and Cilantro // Who doesn't love avocado?  Who doesn't love sun-dried tomatoes?  It's a divine combination and Dave has already used the mixture as a salad topper, too!
Meatballs
This is a classic get-together dish in my family.  We don't have a function without meatballs.  They are heavenly.  One 16 oz. jar of grape jelly, one bottle of BBQ sauce, and a bag of frozen meatballs is all you need.  Toss the three ingredients on the stovetop on medium-low for about 45 minutes-1 hour.  Keep warm in the crockpot until you serve!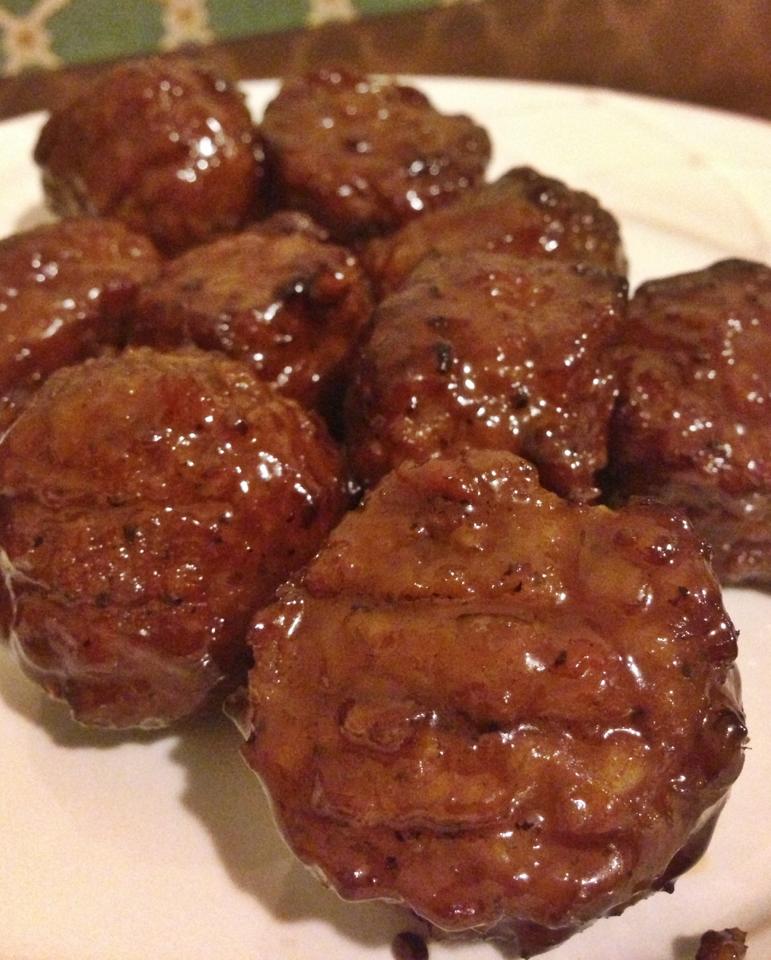 Veggie Tray
I used to be proud and refused to buy a veggie tray when I could just buy and cut the veggies myself.  Not so, any longer, not so.  I bought the veggie tray, it came with the delicious ranch dressing that everyone loves, and it saved me time and sanity.  I just put the veggies out on the tray with the ranch, and added a bowl of hummus (also store-bought).  So good!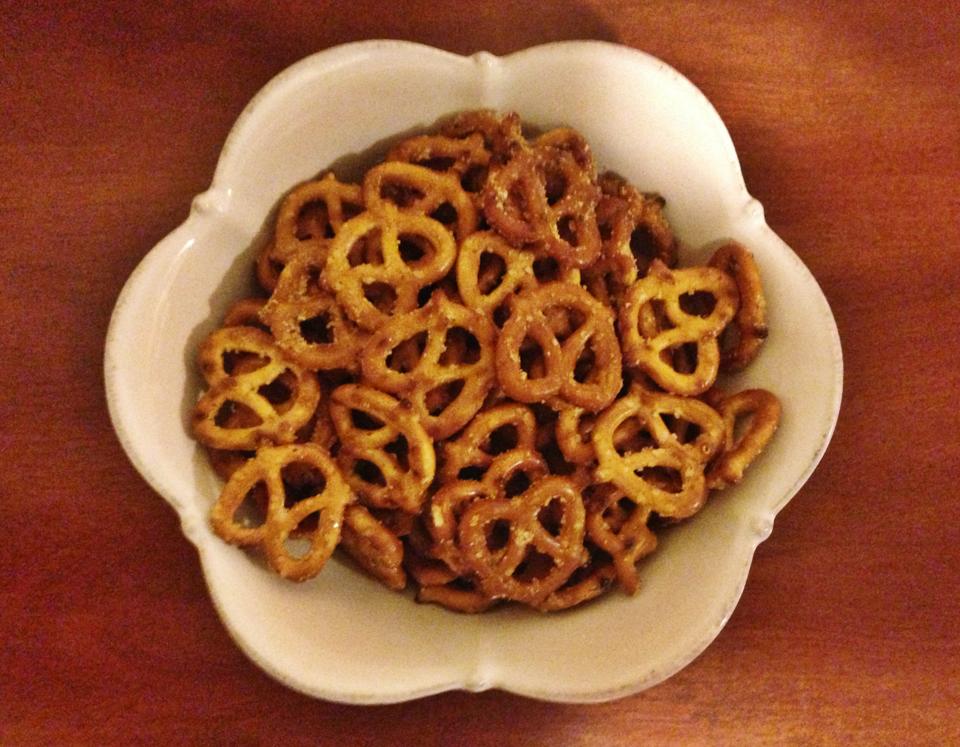 The ladies went wild over these!  This recipe is a nice spin on and spruce to the traditional pretz, it is inexpensive to make, and it is incredibly hassle-free.  Snag a bag of pretzel twists and dump them in a 9×13.  Mix 1 cup of oil, 1 packet of ranch dressing mix, 1 tbsp of cayenne pepper, and 2 tbsp of garlic salt and pour that mixture over the pretzels.  Bake lowwww and slowwww on 200 for 2 hours, mixing every 30 minutes.  Mmmmm.
Oatmeal M&M Cookies
Every party needs some sweet.  I decided to keep it simple for this shindig, and just picked up a packaged mix for oatmeal cookies.  I added dark chocolate M&Ms for some flamboyancy and they were so tasty that I didn't get to sneak a picture of them…
Drinks
Sweet Tea (store-bought), Lemonade (store-bought), and Water with Lemon
I'm still basking in the glory that was that enjoyable evening and I'm tempted to make this exact menu for every party that I may host in the future.  But what about you?  What are your go-to recipes for get togethers?  Please share your wisdom!
---
Come along, won't you?
Bloglovin' // Facebook // Twitter // Pinterest // Instagram