As always, I should be packing for this week's journey, but coffee and blog posts win out yet again, so I'm joining author extraordinaire Jen for some quick takes before I head out to only Dave knows where…
– 1 –
You see, we're shipping out to a family favorite lake for a weekend away with my parents.  All four of us need a little break before things get crazy again once school rolls around.  We've spent many summers on this lake with my mom's family, so not only is it fun and relaxing, but it's loaded with great memories.
– 2 –
But this weekend, we are staying in a lake-cabin.  Meaning it's a cabin that floats on the lake.  Maybe some of you think that's cool but all I see are clips of the poor third class folk aboard the Titanic as it sank (you ruined me, Leo).  What if that's us?!  I know it's safe and blah blah blah but Miss Pessimistic Realistic might not be sleeping much this weekend.
– 3 –
Side step: speaking of sleep… I love Jennifer's idea about determining your sleep personality!  I think I'm a ESML.  I fall asleep easily, stay asleep easily, am much more productive in the morning, and it is becoming increasingly evident that I do not handle lack of sleep well.  I want it and I need it.
– 4 –
Ok back on track… Immediately after our flirt with death on the lake, provided that we survive the buoyed shelter, Dave is taking me on a getaway.  To where?  No idea.  He's surprising me.  Really, he's great, but he also knows how I am with surprises.  I'll channel my inner Lady Grantham to help relay my sentiments: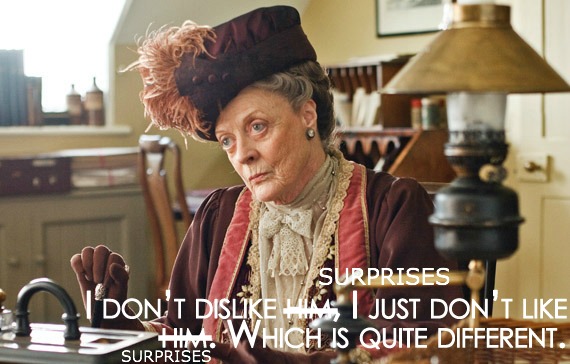 It's the Type A, Melancholic Choleric in me.  I like to be in the know.  But Dave enjoys surprising me and he did relieve my angst by telling me there would be sun, water, and sleep involved.  I can get on board with that.
– 5 –
What about you, do you like the security of being in the know or do you enjoy taking bigger risks with the unknown?  In other words, how would you play Deal or No Deal?  When that creepy banker guy gives the contestant a ring-a-ding and offers a very significant figure of money, how does your blood pressure react?  If you were the contestant, would you stop the game right there and take the money offered; or would you turn the money down to continue to play the game, meaning that you could walk away with more than was offered, or you could walk away with nothing?  I'll keep you guessing on the moves I would make but let's just say I'd be leaving the studio real quick and real happy.
– 6 –
Just for kicks and the fact that I've been reminiscing a lot this week, I give you two of my favorite photos from our wedding:
– 7 –
You all know, Jenna, right?  Isn't she fantastic?  Well, sweet Jenna has written an excellent guest post for you awesome Heights readers whilst I am away.  So be sure to check back here on Tuesday to reap her wisdom and her wit!
Now, go see the better takers.  That's where I'll be.
---
Come along, won't you?
Bloglovin' // Facebook // Twitter // Pinterest // Instagram